Fortunately not a venue featuring jazz explorations courtesy of Louie Anderson, Belly & Trumpet's actually the latest venture from the Oak folks in the former Bowery spot, where they're dropping the "hot dogs" from the old "gourmet hot dogs" angle, instead serving classy, non-encased cuisine in a cozy 50-seater decked out with pink walls and ornate chandeliers, with a 15ft bar nestled in the corner.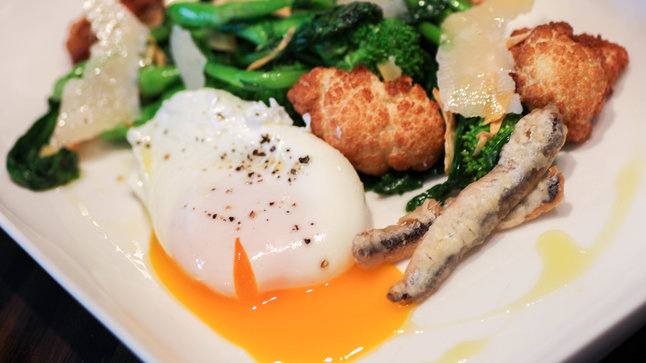 They've brought Oak chef Brian Zenner over from the Design District mainstay (don't worry, he's staying on there, too), to oversee a menu kicking off with the likes of chickpea fries (w/ eggplant & bagna cauda), this warm salad of rapini, cauliflower, anchovy & egg, and duck confit with Taleggio, raisin-pecan bread, arugula, and currants.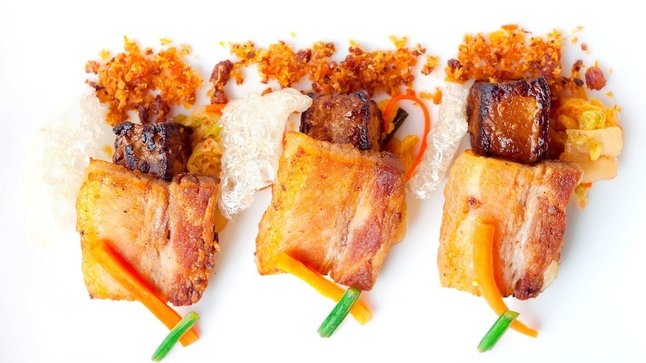 Ramp it up with more hearty sharables like this Niman Ranch pork belly (w/ kimchi, daikon, & chicharron), and spotted sea trout with artichoke & serrano ham, or what they called Pedro when he did the "giant balls" dance the Japanese outfielder showed him.
They're still finalizing the drinks menu (thus we can't yet show it to you), but expect action like Jason Kosmas's 86 Co. spirits applied to "classic templates", like a spicy marg or a French-twisted gin-laden Manhattan. Look for tricks like taking a torch to garnishes to show technical proficiency, something Louie never displayed with his jazz trumpet.