June 21st is going to be different than any other Friday, Philadelphia, because it's the day Thrillist will be guiding you through the Best Day of Your Life
It's the longest day of the year, so you're going to make it count and take the day off. Then download the itinerary below to direct you to hookups on everything from free apps at PYT to drinks on us at Graffiti Bar, all the while following the #BDOYL social action here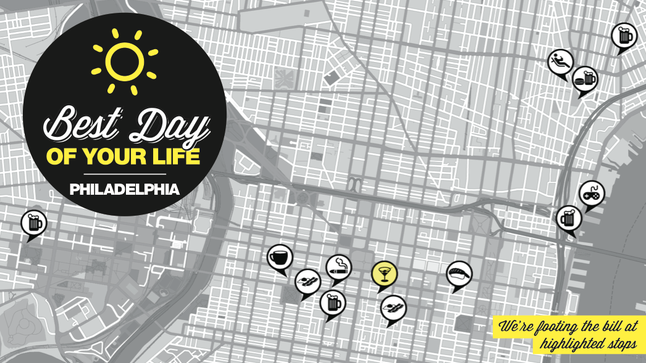 5:24 am: Wake up to the sun rising over the Schuykill and shout to the rafters rowers that today is the Best Day of Your Life.
Zero dark 30: Now head home and hit the oars on your Wii Fit. Something to talk about with that crew girl who smiled back earlier? Check.
Asscrack of dawn: Shower. Belt out some old-school Schoolly D. Do not get sucked into watching all of King of New York. Press and button up your Chase Utley jersey, because today is your goddamn day.
Early morning: You're going to need caffeine today, so fuel up at La Colombe in Rittenhouse Square, or if things are too busy there bounce to Elixr in Center City for some single-origin pour-over action -- so you can blast off like that rocket-powered bear-shark muraled on the wall.
Breakfast: Stroll over to Toast, where it'd be practically un-American of you not to get the truffled mushroom Benedict, or if it's mobbed brace yourself for the bacon-and-egg-jammed Breakfast Bomb at Honey's Sit'n Eat, a full breakfast stuffed inside a plate-sized pancake coated in maple syrup and powdered sugar.
Post-breakfast breakfast: Now bask in the sun like a Monopoly board top hat as you claim some Rittenhouse real estate outside Parc with an iced Vietnamese, croissant, and the Inqy. Attract cute dog walkers with your life of leisure/love of puppies. Looking to make another kind of connection? Score a table outside Joe Coffee across the park and feed off their baked goods and their Wi-Fi.
Late AM: Too much sun and not enough beam is no way to pre-game for lunch. Want some brown while you work on your tan? Chase your bourbon with 60 different drafts at City Tap House. And if you're wondering how you say brown in Spanish, the tequila list at Distrito has the answers.
Noonish: Grab some turf in the Piazza at Schmidt's in NoLibs and beam gorgeously at the world.
It's time for lunch: Sliders? Krispy Kremes? Today, you deserve burgers inside Krispy Kremes. Enter Piazza; proceed to PYT. Wait, what's that across from PYT? Cheeseburgers on top of pizza? Better get a better look (and a slice) at Pizza Bar.
Post-lunch: Cross over Girard Ave to Fishtown's Bottle Bar East. Serenade the staff with "99 Bottles of Beer on the Wall". Realize they sell 500 bottles. Start over. Trust them when they tell you you need to do this at Foodery in NoLibs. Cross the street again. Discover they sell 600 bottles!
Early afternoon: Claim yourself King of the North and celebrate your all-but-guaranteed Grammy nom with a celebratory stroll down Walnut St puffing a stogie from Holt's. Just want to sip some smokiness? Rye up at Rouge
5 o'clock somewhere: Drop your Visa at Center City's Belgian brew embassy Monk's Cafe for a bowl of moules stewing in blue cheese, bacon, and beer; stew over a single Chimay Tripel yourself. Or, if you're feeling more continental, ale up at the Fox & Hound.
You-time: After you've perfected your pitch to the bartenders at Monk's, max out the skeeball machines at Dave & Buster's of every ticket they possess. Rather demonstrate how you swing your Magic Sword? Drop some quarters on a little private joystick action at Barcade.
Happy hour: Get your hands on pork buns and beers at Sampan's greenhoused booze yard Graffiti (we'll be treating some readers who get there early), or, alternatively, find discounted craft cocktails behind the unmarked gate at Readers' Choice Hop Sing Laundromat.
Get your Iron intake: Any other night and it'd be Grubhub and Food Network -- tonight you're turning your internal dial an Iron Chef's grub hub in Old City where you're getting hand-fed a long night of awesome at Morimoto's sushi bar, and only your commentary matters. Want the sushi of Spain? Hit up that other Iron Chef down the block for tables full of tapas at Amada.
8:31 pm: Your last course is eastbound to Pennsport just in time for the sun to set over your Michelada as you wash down a deep-fried liquid-nitrogen cheeseburger while dancing the night away under the Ben Franklin at Morgan's Pier, or, if you'd rather close your night out in Fishtown, hoist steins at Readers' Choice Frankford Hall. And don't be surprised if that rower oars by one more time, because you just had the Best Day of Your Life.