June 21st won't be a normal Friday. Thanks to Thrillist, it's actually going to be the Best Day of Your Life! Provided you can follow some simple directions...
What you need to do: 1) practice playing sick so you can get off work, 2) download our printable itinerary complete with sexy map, 3) follow all the #BDOYL social action here, and 4) get ready to enjoy the longest day of the year with stuff like free lunchtime apps from Matt's in the Market and discounted happy hour 'tails at Pintxo when you mention who made it all possible (Thrillist!).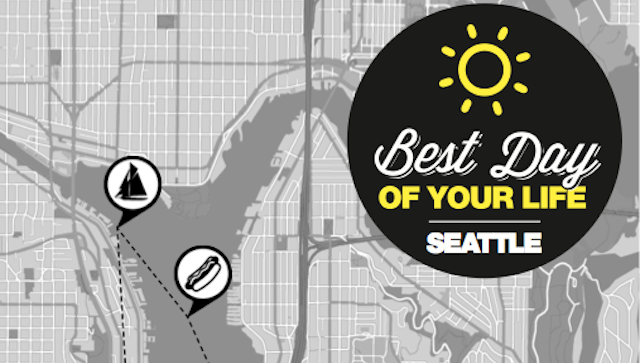 5:12 am: This is when your Snoopy alarm goes off. After wearily hitting the snooze button a few times, you realize this is the Best Day Of Your Life and finally bolt out of bed around 5:42.
Dawn's Early Light: A 3.2mi run around Green Lake at this god-forsaken hour will help you stay in shape for a day of serious not-staying-in-shape, and get you home before the city's probably still pretty pale masses descend on its shores.
The Crack: Home, get showered, then call KEXP's John Richards to only semi-ironically request My Posse's On Broadway so you've got something to listen to on the way to…
Early Morning Coffee: Take in an espresso and some stunning views of the Space Needle (which you will not be visiting on the BDOYL) at Bauhaus Books and Coffee, or if you prefer coffee straight from the roaster, Victrola's a block away.
Breakfast: Carbo-load with classics like biscuits & gravy, or Asian-style Congee/noodle dishes at Ba Bar. Rather have fried chicken and waffles? Hit Lost Lake Cafe, and then make your way off the hill for a…
Post-Breakfast Cocktail: Is it too early to start drinking? Not on the BDOYL, and definitely not at the 5 Point Cafe, where they've got a patio from which you can quietly mock the people on Denny still trying to get to work. The Lucky Diner on 1st is also pour beer & wine at this hour.
Late AM: Cruise through Belltown to Solstice on Pike for some sunglasses to replace the ones from last year you haven't seen in six months.
Midday: Take some time to literally and metaphorically smell the roses during a stroll through Pike Place Market's riotously colorful main concourse just five blocks down Pike.
Lunchtime!: That means a pork belly confit "bánh mì" from Matt's in the Market. If you can't get a seat, no sweat! Cruise down Post Alley to Lecosho or Von's.
Post-Lunch: You could go soak your now-bloated frame in a hot tub, or take the boat out on the lake… but why chose?! An afternoon in a Hot Tub Boat on Lake Union awaits. Already booked? Try some kayaks at Agua Verde Cafe.
Afternoon Snack: Track down Summer Dog's floating hot dog barge for some sausage served (if you're lucky) by a lovely bikini-clad young lady.
Beer O'clock: Get out of the water and up to Cap Hill, 'cause Thrillist is playing bocce ball with, and giving free drinks to, anyone at Von Trapp's early enough. All the courts taken? Hit the shuffleboard table at Auto Battery.
Game Time: Hit suds-equipped arcade John John's Game Room for vintage pinball machines and 8-bit-era video games, or, if someone's already dominating Street Fighter as Chun Li, get a piece of pie and a cocktail at Pie Bar just a few doors down.
Happy Hour: Salt and pepper pork rinds and half-off beers from La Bete are just around the corner, and should make you very happy. If not, head back to Pike/Pine and the patio at Poquitos for handmade chips and guacamole. Also killing Happy Hour: our Reader's Choice, Pintxo.
Dinner Bell: Still thinking about Chun-Li from earlier? There's a seared tuna Street Fighter roll at Momiji with your name on it. Raw fish not your thing? Try some Mexican eatin' at Barrio a block down 12th.
9:11 pm: The sun goes down and so do several Edgarita's at 95 Slide. It's just few blocks back across Broadway and is the only sports bar in Seattle with a roof top bar. Too rowdy? Keep heading down pike to Terra Plata's roof deck, or the massive patio at Frolik on 5th Ave.