Photo by Adam Ginsberg
Writer/director/actor/grown-ass man Alex Karpovsky has been on the indie movie scene for a few years now, but just in case you skipped the last couple Sundances, here are some highlights. He's played a stand-up comic in Sleepwalk with Me, a hipster YouTube star in Tiny Furniture, and, most impressively, "several Russian gangsters" in Grand Theft Auto IV. (He's also on that show that makes the Internet spit blood every week, Girls.) Now, he's got two movies -- Red Flag and Rubberneck -- hitting select theaters. Thrillist decided to ask him about his crazy resume, plus how to cure a killer hangover.
Road trip movies he watched to prep for Red Flag
There's a great movie called The Trip that I loved. I just thought the tone of it was great, it was really funny. And those two guys -- Steve Coogan and Rob Brydon -- were playing, as far as I could tell, caricature versions of themselves, the way Larry David does on Curb and Louis C.K. does on his show. That's what I was trying to do with Red Flag in the way that I was kinda amplifying my own ridiculous traits, fears, insecurities, and delusions for comedic effect.
Getting direction on his Grand Theft Auto IV characters
I remember at one point one of the producers coming up to me. He was wearing khakis, he was sort of corporate-looking, and he goes, "Okay, Alex, in this scene, you've had sexual intercourse with a prostitute and you're going to kill her to get your money back. Take a look at the clipboard, these are your lines."
About that movie he did with Andrew W.K.
I don't know if that movie's ever going to come out, and I didn't have any scenes with him. I love him though, I love his whole thing, his whole persona. Once backstage we were both presenting awards for I think Paper magazine. He presented an award and I presented the award right after, so I told him I'm a huge fan. And he was very nice and sweet, as you can imagine. But gosh, I'd love for that movie to come out. That might be a movie that just sits on a hard drive for the rest of my life.
Imagining a sequel to his Tiny Furniture character's "Nietschian Cowboy" vid
Like a feature-length, 90-minute sequel? If it was that, it would probably be Jed in front of a green screen going on a very anger-filled rant about how, in his opinion, God is dead and there's nothing but arbitrary construction to spiritual meaning in our lives. And, you know, he'd probably work himself up into a froth and keel over at the end. Nothing but a plastic rocking horse left to replace him.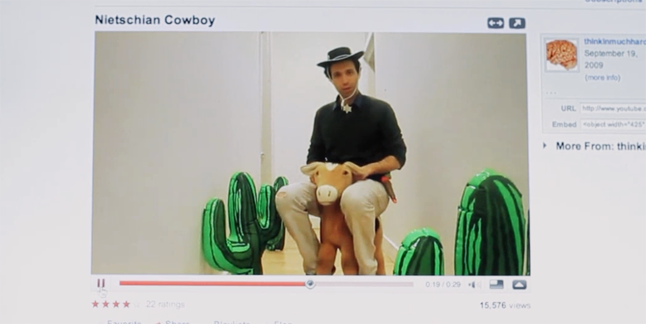 Working with the Coen Brothers on Inside Llewyn Davis
It was great. They're probably my favorite filmmakers and I've seen all their movies so it was unbelievably special...They're so good at making movies and they have such a specific sensibility. You know, you can usually tell very quickly, "Oh, this is a Coen brothers movie." And I feel like if you're a fan and you've seen their stuff and you've read the scene you're going to do, you already have a pretty good understanding of what they already want. You know what I mean? It felt very safe and familiar even though I didn't know them.
Being a crack spirit guide in real life
Oh no, I don't think that's ever happened. Usually I'm the one that has to be reined in.
His Rubberneck character says nothing cures a hangover better than Thai food and dark comedy. Here are his picks.
Well the last time I was really hungover, which was yesterday -- no, it was a few weeks ago. I didn't eat Thai food but I do remember watching 24 Hour Party People with a lot of Advil in my body and I felt much better when the credits rolled at the end of that movie.
Red Flag and Rubberneck open in select NY theaters on February 22. You can also watch them on demand now.