After hopping around Southeast Asia to eat/learn/eat, Top Cheffer Leah Cohen is back in New York with Pig and Khao, a narrow, noodle-housey LES joint with slatted beams running along the wall and sometimes-communal tables below a badass, hand-carved (and actually used!), soapbox-derby-esque wooden dragon motorcycle, all leading to a trellised backyard hosting a self-serve tap for those who choose the $15 unlimited beer option like cool people.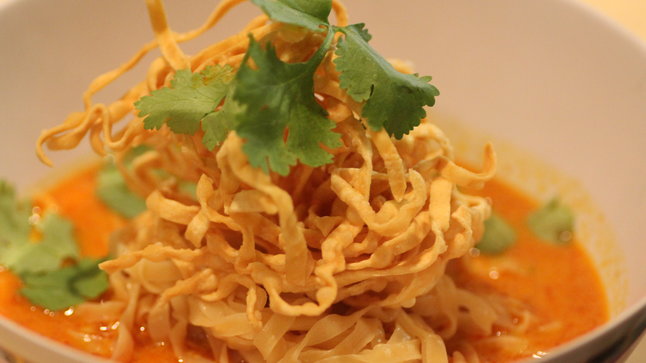 Small plates kick off with hanger steak & tempura poached egg, rice noodles w/ pork, shrimp, chicharron & crispy garlic, and a coriander & Sriracha oyster omelet, while a more truncated run of entrees involves a whole fried fish w/ lemongrass, kaffir & Thai basil, grilled lamb curry ribs w/ yogurt & roti chapati, and the Crispy Pata: pork leg w/ dipping sauces and pickled green mango... look out, Matt Damon, he's horny and has been drinking!
They've also got a selection of canned brews and wine/soju cocktails including the P&K Manhattan w/ two vermouths, Angostura bitters, burnt orange, and cardamom, which would just be a thoughtful thing to do if they order the unlimited beer like a cool old person.