There is no disputing that Nashville is a food city. If you've had a pulse in the last few years, you've noticed the national media abuzz about the victuals in the city where Coach Taylor's wife moved to become a country music star. But putting aside the hot chicken and all those meat and threes, I wanted to know: Is Nashville a burger town?
To help me find out, I enlisted two of my good friends who also happen to be Nashville locals: Nashville Eats cookbook author Jennifer Justus and Nashville Lifestyles magazine editor Erin Byers Murray, as well as Nashville-based glorious food photographer (and our former San Diego Editor) Sara Norris, and my best friend from growing up, Mr. Casey "Big Cat" Hurley. If you'd like to see a picture of him pretending to look chill at Dino's, here you go.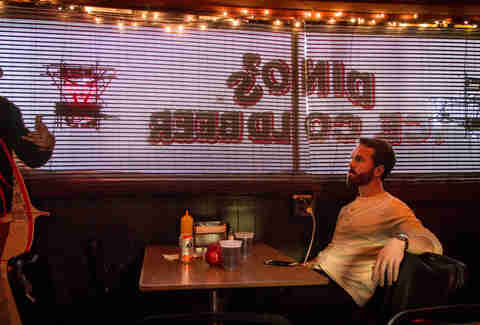 With their help, I put together a list of the best and most iconic burger spots in the city and hit them all within 48 hours. In case you're new to my rankings, here are some guidelines: If the restaurant had multiple burgers, I tried to order its signature burger, or if that was too outlandish and stunt-y, the closest to a classic cheeseburger. If it came with options, I always picked American cheese and grilled onions. If you think I missed a place, please write an episode of Nashville where a carpetbagger from California named Kevin comes in and starts spouting off the wrong opinions about country music and messes up a particularly heartfelt live performance at The Bluebird Cafe. But until then, here is my ranking of the 11 best burgers in Nashville. 
11. Classic Burger
Burger Up
Address and Info
There were three things that happened while in Burger Up worth relaying. The first is the fact that not one, but TWO separate groups of girls were asked to be bridesmaids by a bride-to-be while we ate. The second is that, as we were leaving, a man with amazing slicked-back American Psycho hair wearing a royal blue sport-coat walked in, looked around, winked at someone, and then walked back out. The third is that I ate a kale salad alongside my burger. It was very good.

The fact that none of these things involves the burger is not totally an accident. The truth: The burger just wasn't fantastic. The grind was dense so the meat felt snappy, the patty was overcooked and under-salted, and the bun was dry and flaking in parts. The balance of the toppings was fine, and the acid from the pickle and yellow mustard gave some balance, but it just didn't do much.

I often find that, in burger shops with lots of stunt-y options (Up has 12 total burgers), the most basic burgers don't get the love they need to truly make them shine because the focus is on other tricks. But hopefully my experience was merely an outlier.
10. Family Wash Burger
The Family Wash
Address and Info
There were some guys "trying out some new stuff" onstage when Jennifer, Erin, and I got to Family Wash. That stuff they were trying was loud, but not great. The burger suffered from a similar problem. The jalapeño mayo was spicy and bold, and it melded with the cheese and patties to give this creamy, salty, spicy kick I dug, but the patties were overcooked, the bun was extremely dry, and the pickle did little to give it the proper balance. I'd heard that Executive Chef John Stephenson left a month or two before, and I couldn't help but wonder if that led to the inconsistency, but that is merely speculation. Cooked consistently and paired with a moist, well-griddled bun, this would be a burger worth seeking out.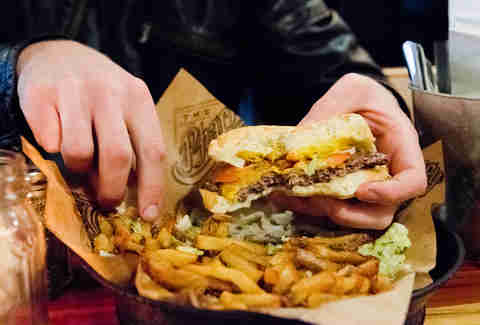 9. Pharmacy Burger
The Pharmacy Burger Parlor & Beer Garden
Address and Info
Other than Husk, no other burger establishment in Nashville received as much pre-trip hype as The Pharmacy. "You'll love the Pharmacy," said one cocky friend who travels to Nashville regularly, adding, "You can put beer mustard on your burger!"

Perhaps this friend doesn't truly know me in his heart, because I DON'T CARE FOR BEER MUSTARD! But I digress, and admit that I had high hopes for the place named after where I purchase my Cetaphil. They cook the burgers medium-well as a standard, so I asked for medium, and possibly received something that split the difference, with just a faint pink coloring, though the meat was salty and had a pleasing loose grind. The mustard was intense, as were the sheer quantity of pickles. I rarely complain about there being too much acid to combat the fatty elements of the burger but this might be the one time it happens. Overall, it was a good burger, but not a mind-blowing one. And no, Nate, I didn't try the beer mustard.
8. Singlewide Cheeseburger, Dressed
Paradise Park Trailer Resort
Address and Info
When we went to Paradise Park on Lower Broadway, right in the heart of the intense tourist action, it was empty except for three tourists from Ohio and two dudes who seemed to be auditioning for a real life version of James Franco's role in Spring Breakers. As we took this very photo of the burger you see above, one of the Franco brothers swaggered to our table. "Yo. My brother wants to see you."

Sara looked up from her camera, but he was talking to me. And when I looked back, his brother was sitting at the farthest table in the back of a very deep restaurant. He waved.

Not knowing what else to do, I walked the 3,000 or so yards back to his table. Franco brother two said his name was "Gus with s's." He had a tattoo of a serpent wrapped around a lion on his hand. "You folks here to make videos?" he asked, not impolitely.

"No," I said, awkwardly. "We're just taking pics of the burger and trying it." I actually said "pics." It wasn't my best moment. Nashville James Franco Guss nodded. "I feel you. Y'all need any party snacks while I'm in town you let me know. I'm the man for parties." I nodded and thanked him and walked back to the front where a band was singing "Happy Birthday" to those tourists from Ohio. It was 4:45pm on a Wednesday.

Anyway! The burger is actually pretty good. All the ingredients are right, the mayo blends in with the shredded lettuce, there is a good griddle on the meat, and the seeded bun is fresh, though not toasted, so it gets soggy. Plus, you know, it's nice knowing Guss is there if you need any party snacks.
7. The Cheeseburger on French Bread
Rotier's Restaurant
Address and Info
Does your favorite restaurant have a Kools cigarette machine? And a Galaga arcade game? And photocopied diplomas, and a neon red sign, and a green awning, and neon letters in the window that just say "Steak" and "Sea Food"?

Rotier's, which has been around since 1945, does. The classic Nashville landmark is legendary both for being a great place to take your parents if you go to Vanderbilt, and also for serving a fantastic cheeseburger on French bread. And, if you look at that perfect composition in the photo, you can see why. There are issues with this fabled burger though. The meat, though loosely ground, is relatively unremarkable, the French bread is not toasted and gets soft and wet. The grilled onions are undercooked. And yet, when it all comes together, it works. The stack is so professional and smooth that biting through it gives you the full range of flavors, and that is marvelous enough in its own right. Oh, and don't forget: You get to play Galaga too.
6. Cheeseburger with Grilled Onions
Brown's Diner
Address and Info
Brown's Diner holds Nashville's oldest beer license, which might explain why we ordered beers there just after 11am on a weekday. Founded in 1927, the institution quickly became Casey's and my favorite restaurant in Nashville in terms of vibe: the green walls with the wood paneling, the blue seats at the bar that look like they survived the Depression, the menu featuring hush puppies for $1.75.

Our waitress, quite possibly the cutest older woman below the Mason-Dixon line, told us that she'd gone to the dentist that morning and the novocaine hadn't worn off so she was only able to half-smile and that made us love her all the more. She brought out the cheeseburger quickly, and I liked the looks -- the stack was handsome and well-composed. And the burger itself had some moves: It was salty and well-cooked with a loose grind, and the "standard" toppings (mayo, tomato, lettuce) provided just the right balance. The only real issue was the bun, which was not toasted (COME ON, NASHVILLE, TOAST YOUR BUNS, PLEASE) and too soft, so the top steamed up but the bottom got extremely soggy quickly. Still though, we were enchanted.

"I want to live in this place for real," said Casey, and I couldn't really tell if he was kidding.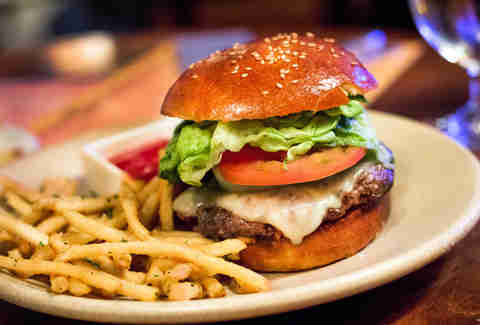 5. Capitol Grille Burger
Capitol Grille
Address and Info
If you've never been in the men's bathroom in the Hermitage Hotel in Nashville, you are missing out, friends. It's like walking through a Back to the Future time warp. I'm not even going to tell you more about it, but I implore you to go and check it out, and maybe even use it if you have to.

ANYWAY, Capitol Grille was hopping when we got there, filled with mostly locals in Downtown business attire discussing industries I can't even pretend to understand. Casey nodded along to their conversations because he fancies himself "business savvy" but I could tell he was faking it. The burger, though, was the real deal. The Double H Farms beef was fantastic, cooked perfectly with a little bit of spice (ground red and black pepper, maybe?). The "HH sauce" also had a kick, and a tiny bit of BBQ twang, which complemented the white cheddar and peppery arugula. Even the fries were deliciously thin. I have no real complaints about the Capitol Grille burger, to be honest. It's just Nashville has a lot of good burgers.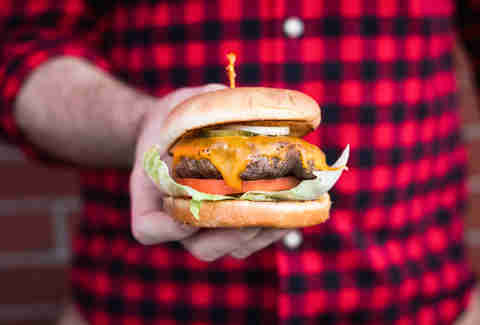 4. Dino's Cheeseburger
Dino's Bar
Address and Info
Before eating this burger at 5pm with nary a buzz, I'd yet to meet someone who'd had Dino's burger sober. "It's amazing," said one friend, before adding "I've only ever had it after midnight so I'm not actually sure how true that is." Literally every single person I talked to said some variation of this same theme.

But, as I keep trying to tell you guys, I'm a professional and that meant heading to Dino's in the early evening, before the late-night rush. The only people in the bar when Casey, Sara, and I got there were an older couple in the corner and a cardboard Dolly Parton on the wall. Groundhog Day played on the TV. Between sips of beer from a plastic cup, I tried the burger. The soft white bun was perfectly toasted; the meat was salty and cooked to a true medium. Every component did its job well. It's a conventionally great cheeseburger sober, so I can't even imagine the glory Dino's burger is to behold when you've had a few Yazoos.
3. The Seamus with American & Grilled Onions
Gabby's Burgers & Fries
Address and Info
We got to Gabby's early at around 11am on a weekday, expecting to be the only people there. We had miscalculated. Gabby's was half-full when we arrived, and completely full by 11:30am, teeming with construction workers and office people and parents looking to bribe their children into obedience, or scare them by setting them down by the haunting wall of Mr. Potato Heads.

Now hawk-eyed readers might notice that the burger in the picture above is, in fact, the Gabby, whereas I'm recommending the single patty Seamus. The truth is, for one person, the Gabby is too much damn burger. But in a delicious way. The unique seasoning on the meat gave it almost a meatloaf flavor, but it was cooked perfectly, juicy and pink on the inside with a nice char, so it had the best elements of flavor from meatloaf without that trademark dryness from sitting in an oven. The bun wasn't toasted (come ON!) but still had good texture and didn't get too soggy, and the onions and cheese all melded with the meat, creating that perfect burger Voltron. Go to Gabby's, friends, but set your alarm clock before you do.
2. The Burger
Little Octopus
Address and Info
When Jennifer and Erin recommended the burger at Little Octopus, I was suspicious. New restaurants tend to be towards the bottom of my burger list, mostly because I don't really care about trying a new place in a new city -- I just want the best. But their insistence won me over, and so we met for dinner at Little Octopus the first night I came to town.

Sitting up at the bar in the back, surrounded by ladies eating ceviche, I dug into a burger that basically broke most of my rules, what with the egg and exotic manchego cheese and TOMATO. But man, was it worth it. The Manchego is griddled, almost like its own crunchy grilled cheese within the sandwich. The char was incredible, the beef mixture was salty and juicy and loosely ground, the bun perfectly done, and the piquillo aioli had just enough tang to stand up to the other elements. Jennifer and Erin were right (again): This is a fantastic, nearly astounding burger, and it would've easily been the best in many of the cities I traveled to. Unfortunately for the small cephalopod mollusk, they happen to reside in the same city as a world-beater.
1. Husk Cheeseburger
Husk Nashville
Address and Info
As much as I love Sean Brock and all he's done for the Good Food Revival Movement in the US, I definitely didn't want to pick Husk's burger as number one. The burger is a hypebeast and when burgers tend to attract that much hype, they can't possibly live up to it. Plus my cynical, counter-intuitive nature makes picking something so obvious almost physically painful. It makes me nearly existential: What am I doing going around the country and eating burgers if I'm just going to re-confirm the status quo? What is the point of all this? WHAT HAPPENS WHEN WE DIE?

Well, I hope that when we die, we get to eat this cheeseburger every day. It's a marvel, a mutant superhuman burger that must've been created in a secret government lab and given special powers. The grind on that Bear Creek Farm beef was so loose, it almost felt like I was eating a sauce-less sloppy Joe, and yet it stayed together, if only by the grace of the almighty himself. The crust on the patty was remarkable and covered most of the surface area of the meat. The onions tucked in between the patties steamed and mixed with the American cheese for optimal melding. The pickles and mustard did their part in upholding the acid tenets. The sesame bun looks bulky to the eye but squishes easily when you bite. This is a flawless burger, the best in Nashville by several country miles, and a clear contender for best in America. Damn you, Sean Brock. If you need me, I'll be in line, waiting to kiss the ring.
Sign up here for our daily Nashville email and be the first to get all the food/drink/fun the Music City has to offer.