The Perfect Gadget for Everybody on Your List in 2017
'Tis the season for gift shopping, and since we live in the 21st century, there's no need to buy your friends anything that isn't a robot or a drone. Or a robot drone. (But only if it has laser beams.) This year sent a lot of cool new gizmos and gadgets our way, and while it would feel good to buy them all for yourself, it would feel even better to share the latest and greatest that the tech world has to offer with the people that you love. Here's the hottest stuff for the holidays targeted with laser precision to delight your fellow denizens of the future.

Playstation VR - $290
Virtual reality is the future and if you give it to your gamer friends, they'll remember this kindness when they're the benevolent rulers of some digital fiefdom. The game library for Sony's Playstation VR gaming headset is growing every day and the company has already moved over 1 million units in the span of a year. This is partially because of the excitement of the new tech, but also because of the features, performance, and price point of the headset compared to its competitors. It's not a gift, it's an investment in your own planet somewhere in The Matrix. Get it for: that introvert who laments how quiet Second Life has gotten.
BioLite SolarPanel 10+ - $130
BioLite recently expanded its collection to include the SolarPanel 10+, a folding panel with twice the capacity of the previous 5-watt model. Features include a 360-degree kickstand so that the panel can be positioned at any angle on uneven surfaces, a 3,000 mAh lithium-ion battery, a micro USB charge-in so that the panel can get its juice from an external power source at night before venturing out, and a USB charge-out port for charging devices. The 10+ is also very light at 1.2 pounds, so you can clip it to your pack and not be burdened by the weight.
Get it for: anybody who goes camping but has a lot of downloaded Netflix to catch up on.
HandEnergy Portable Generator - $80
It's always smart to have a backup power source for when the grid goes down, you're miles away from the nearest outlet, or the sun's not out. HandEnergy is a pocket generator that, as the name suggests, is powered by the rotation of the wrist. The rotor inside turns the movement into an electrical charge, which is stored in the device's 1,000 mAh battery. Now you're never without power!
Get it for: preppers, or anybody smart enough to strap it to their leg before a run.
Google Home Mini - $50
Smaller than the original, half the price, and with a great sounding speaker and stylish look. This will be a popular and welcome gift this holiday season for anyone who uses or wants to use Google Assistant. Look for this one at Target, Best Buy, or the Google Store on Black Friday, when it drops to $29, plus a $10 store credit. Nineteen bucks for a home assistant? We've had more expensive sandwiches!
Get it for: your Secret Santa recipient, who is going to be stunned you stayed under $20.
Tetra Slide USB Lighter - $20
At least once in your life, an attractive person is going to ask you for a light. That's why the sleek and stylish, rechargeable Tetra Slide lighter is a thoughtful gift for any fan of looking cool while lighting things, or just has a lot of candles in their house. It uses a heated coil instead of fuel and flame, charges via USB, and comes in black, gold, or iridescent. Pair this with a BioLite or HandEnergy and you're making fire with no need to ever refill a lighter again. Now that's hot.  
Get it for: friends who love the outdoors but insist on glamping.
Advertisement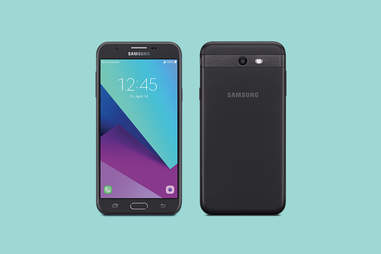 Courtesy of Boost Mobile
No matter what kind of phone upgrade you make this holiday season, a Boost Mobile® plan makes for a great companion purchase. See what else you can do when you switch easily to a provider with this many ways to lower your monthly bill.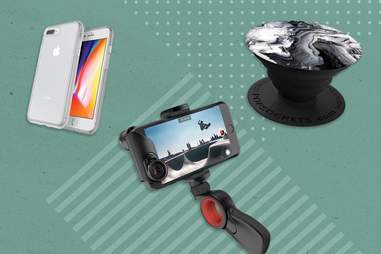 Otterbox Pursuit Series Cases - $70
The newest cases from Otterbox are also the brand's slimmest and most protective for iPhone 7, 7 Plus, iPhone 8, 8 Plus, and iPhone X. The case's PursuiTech™ features keep out dust and the elements, while providing impact protection with a dual-purpose foam. The cases seal and protect the camera and audio components without distorting their functions, while also providing quick access to the phone's ports.  A loop-in lanyard assures you'll hang onto your phone even on the topsiest and/or turviest adventures. Altogether, it's more prepared for a night outdoors than you are. Get it for: your friendly neighborhood butterfingers or anybody about to travel the globe.
Olloclip Pivot Grip - $50
The Pivot from Olloclip allows for 225 degrees of articulation for smartphone shooting. This means cooler on-the-go vlogging or action shots with a piece of equipment that fits easily in a pocket. The universal clamp fits phones between 4"-5.5", and there is a mount to attach a light or microphone.
Get it for: the aspiring filmmaker or proud new parents in your life.
PopSockets- $10-$15
Looking for a cheap stocking stuffer that can work for several friends and family members? PopSockets are expanding grips that attach to the back of a smartphone to give users options on how they hold their devices. They double as table stands and come in tons of colors and designs to fit any personality. You can even design your own to promote a business or a personalized token of your appreciation.
Get it for: Teens are crazy for these things, and we don't blame them.
Anova Precision Cooker w/ Bluetooth + Wi-Fi - $200 with Stasher Silicone Storage Bags - $20
Is that steak at your butcher's begging you to cook it like one of your French meals? Sous vide systems have infiltrated home kitchens in a major way to make every meal perfect. While there is a gentle learning curve, the Anova Precision Cooker connects to smartphones to make your job even easier with temperature guides, recipes, and other helpful information so your foodie friend can become a quality chef at home. Pair it with Stasher reusable silicone bags, which can withstand being placed in a freezer or cooked in temperatures up to 400 degrees, and save them all the woes of plastic bags.  
Get it for: aspiring chefs looking to up their game and clean-eating health nuts worried about plastic migration.
Paragon Smart Cooking System - $200
Looking for a kitchen tool that serves more than one function? The Paragon induction cooktop and Bluetooth-connected temperature probe works with pots you probably already have in your arsenal (any that are induction compatible) and keeps the temperature evenly distributed and consistent for sous vide cooking, deep frying, sauteing, or stir-frying. When you can control with precision like this, you'll never burn food to the bottom of the pan again.
Get it for: any chef with an eye on their environmental footprint.
Philips Avance Digital Turbostar Airfryer - $160
Some days you just want french fries. Thankfully, air fryers provide all the fun of deep frying with a fraction of the fat. The Philips Turbostar HD9641/96 Airfryer has a digital display that is clear and legible, a simple dial that rotates to set the temperature and timer, and clicks to get the cooking started. Reviewers praise the machine's easy clean-up and its ability to get that perfect crisp on fries, seafood, chicken, and other traditionally fried foods.
Get it for: Americans.
Thermomix TM5 - $1,450
The Thermomix TM5 is not cheap by anyone's standards, but when you consider all of the appliances it replaces, you understand why it's a smart buy. The universal machine can cook, grind, emulsify, whip, steam, mix, stir, blend, chop, knead, heat, and weigh food, so it's basically like having a countertop chef-bot at your disposal. The TM5 also comes with a 6-month membership to an extensive library of recipes so that the new owner isn't just thrown into the deep end without a little culinary guidance.
Get it for: your rich friend who doesn't have the time or skill set to operate an array of appliances.
SmartPlate TopView - $80
Counting calories, measuring portions, and keeping track of every meal can be a chore, but the SmartPlate was designed to simplify things. Advertised as a "personal nutritionist," the system allows users to plate their meal like they normally would, place the plate on its base, and take a photo so that the app's photo recognition and artificial intelligence can detect the food and calculate the amount of calories being consumed. It also helps the user set goals for weight loss, blood glucose & carb management, and other health & dietary plans. Downside: for accuracy, you're probably going to have to scale back the butter in your mashed potatoes to what SmartPlate considers a reasonable amount.
Get it for: fitness nuts seeking to apply some precision to their discipline.
Meater Wireless Meat Thermometer - $70
This stainless steel leave-in smart thermometer features two sensors: one for internal temperature and another for ambient temperature. It's wireless up to 33 feet and connects to a handy app that lets the grillmaster monitor cooking progress without having to stand over the meat and stab in a probe every five minutes.
Get it for: whoever's cooking the big holiday meal. If you're lucky, they'll invite you back for New Year's.
Zera Food Recycler - $1,200
Composting can take a very long time, but reducing food waste and producing ready-to-use fertilizer with the Zera Food Recycler only takes 24 hours. The fully automated system features an internal mixing motor and blade that goes to work when the lid is closed. The coir additive packs that go into the machine before each new load break down almost all types of food, including meat and dairy, leaving the owner with a tray of fertilizer that can go straight to the garden. Yeah, it's pricey, but it's super cool, and you can't beat the thrill of a thumbs up from your conscience for living clean and green.
Get it for: the homesteader or home gardener who spends too much on potting soil and fertilizer every year.
Uncommon Goods Custom Cookie Stamp - $15
Know someone who is really into baking? This cookie stamp has interchangeable symbols, letters, and numbers for anyone who needs to make personalized treats for those special occasions.
Get it for: grandma, or anyone who will soon be making you a batch of "Thank you!" cookies.
Solsource Sport Solar Oven - $175
This portable oven harnesses the power of the sun to cook food quickly without the use of fuels or flames. The reflectors remain cool to the touch as all of the heat is directed to the cooking surface, and there is no smoke, which makes the oven perfect for those places where traditional grilling would be dangerous.
Get it for: ecologically minded friends looking to reduce their carbon footprint or reduce their utility bills.
June Smart Oven - $1,495
This smart convection oven features carbon fiber heating elements that preheat and cook food faster and more uniformly than other ovens. There are presets for common foods as well as a Food ID system that recognizes what you place inside, the interior is big enough to fit an 11 inch x 16 inch dish, the exterior remains cool even when the oven is cranked to 500 degrees, and with the mobile app you can control the June from anywhere.
Get it for: silicon valley bachelors.
Aldi Stand Mixer - $60
Just about every review of the Aldi Stand Mixer calls it a competently made and affordable machine that can hold its own in a battle against more expensive mixers from bigger name brands. It's only available for a limited time and only at Aldi stores.
Get it for: college students who like to bake.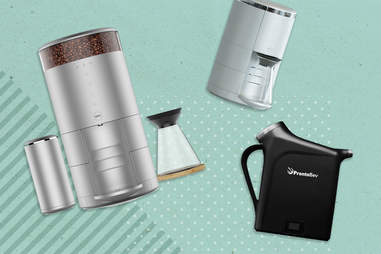 ProntoBev Wine Cooler - $100
Need chilled wine and need it fast? The ProntoBev can lower the temperature of a nice pinot grigio (or any other drink) by a full 20 degrees in just 30 seconds. The cooler can hold a full bottle of wine at a time (750ml), and the built-in thermometer lets the at-home sommelier know when the stainless steel inside is at the optimal temperature for pouring.
Get it for: your friend who wants to be Jay Gatsby -- or any other friend who regularly throws densely attended lawn parties.
Spinn Coffee Maker - $300
This godsend coffee maker is your own personal barista, just without the twirly mustache and ironic tattoos. Spinn can take a batch of beans and make anything from a single shot of espresso to a full carafe of coffee with just the touch of an app. It is Wi-Fi connected, Alexa integrated, self-cleaning, has variable speeds to produce different drinks, and keeps track of your supplies so that you can automatically re-order beans right to your doorstep.
Get it for: yourself, when you realize you spend this much at pricey cafes every two weeks.
Coffee Joulies - $47.95/set
Joulies are coffee-bean shaped devices with stainless steel shells and a material inside that melts at 140 degrees. The Joulies absorb the heat if coffee is too hot, and when the coffee cools, the joulies release the heat to keep it at the perfect temperature for longer.
Get it for: coffee connoisseurs who savor their sipping slowly.
Ostrich Pillow Go - $60
This MoMA-exclusive travel pillow has hidden magnets to keep it one of three positions and high-sensitivity memory foam for peak comfort. Its interesting shape wraps around the neck and cradles the head, and in-between trips the traveler can remove the fabric layer for washing. (Please wash it.)
Get it for: budget travelers with lots of layover, or anybody who suffers jet lag but has trouble sleeping on flights.
BlackRapid Sport Breathe Camera Strap - $82
For serious, on-the-go shooters, a comfortable and adjustable camera strap is everything. The Sport Breathe from BlackRapid has a shoulder pad, underarm stabilizer, fastener hardware to connect to a camera, and a carrying case.
Get it for: Instagram superstars and photography hobbyists thinking of going pro.
Osprey Skarab 18 Hydrating Pack - $80
Designed for day hiking with up to 25 pounds, this pack features framesheet suspension across the back panel to evenly distribute the weight of the load, a 2.5-liter hydration system, a webbing hip-belt that reduces the amount of weight on the wearer's spine, and various storage options, including a scratch-free zippered pocket for glasses and other delicates.
Get it for: friends training for marathons or hiking the Appalachian trail.
Passport Global Travel Adapter - $35
A travel adapter is an essential tool for any world traveler, but they are not all created equal. While many adapters have an unreliable single-use fuse, the Passport is the first of its kind to include an auto-resetting fuse like the ones used in aerospace technology. It also has four USB outlets and safety shutters to keep the little ones from hurting themselves.
Get it for: Instagram superstars again -- don't those people have day jobs?
Away Carry-On - $225
These suitcases have unbreakable shells, two internal compartments to separate clothing and shoes/toiletries, premium wheels that rotate 360-degrees, and maybe the most important feature: a built-in battery for charging devices via USB ports that are conveniently tucked away under the handle. It's like you brought a bureau with you that only weighs 7 pounds.
Get it for: anybody traveling anywhere for more than three days.
1Hydro Series Filtration Bottle - $60
The removable filter in the 1Hydro bottle removes over 99% of waterborne bacteria and protozoan parasites, and has a life cycle of 1,500 liters. The bottle itself is lightweight and made from BPA-free plastic, and there is a small compass embedded in the cap which makes it great for hikers and campers.
Get it for: people visiting countries with a low-lying water table. (Also anyone you want in your group after the zombie apocalypse).
Firebiner - $15
This handy carabiner does a lot more than clip stuff onto other stuff. There is a screwdriver tip on one end, a bottle-opener and utility blade on one side, two hang slots on the bottom, and an Ever Spark flint wheel built right in. Because of the blade, the company that makes Firebiner recommends traveling with it inside checked luggage and not clipped to a carry-on, otherwise you may not get it back. And you need it back, for fire-related purposes.
Get it for: the rugged mountain man in your crew.
Sony WH-1000XM2 Wireless Noise-Canceling Headphones - $350
In addition to having great sound quality, build, and 30 hours of wireless battery life, these noise-canceling headphones have something called an Atmospheric Pressure Optimizer for better sound performance while flying.
Get it for: the business traveler giving an important presentation first thing in the morning who might get stuck next to a collicky baby.