Specialists excel because of their devotion to a myopic scope of greatness -- which is why heart surgeons don't worry about your feelings, and patent attorneys don't care about the guy you hit with your car. For the bar version, hit 83 Proof. Spaciously classy, 83's nonetheless a defiantly no-frills watering hole, housed in a space that's hosted nothing but bars since the '20s (the last being Chinese mafia hangout Attitudes, a goldmine for high risk loans/Rush Hour extras). In an admitted attempt to repel the "restaurant crowd", 83's foregoing frivolous amenities like food/DJs/concept. But their bar menu reads like a fantasy spirits squad, e.g.: Louis XIII cognac (sold at cost), micro-distilled Clase Azul tequila, and Yamazaki Single Malt, the scotch Japan's been trying to perfect since 1923 -- when not pursuing the ultimate beer-serving-vagina-robot-cat. As an after-work-friendly bar, 83 claims it'll have "strong happy hours", though it hasn't quite worked out the details yet -- not a deal-breaker, but still akin to the cardiologist who can't insert a stent, or the lawyer who let Suntori rip off your Super Brew Meow Love 3000.
Recommended Video
This Dublin Iced Coffee Combines the Superpowers of Beer, Whiskey, and Java
Previous Venue
Next Venue
Venue Description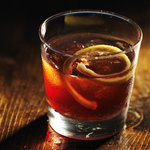 1. 83 Proof
83 1st St, San Francisco, CA 94105
This relatively hidden bar is conveniently located near the 1st & Battery stop on the F-Market streetcar line. Whiskey's the main event, but the bartenders will make anything that you, or they, can dream up. 83 Proof doesn't serve food and doesn't play music -- it's just a great place to hit up after work with your cronies to take the day off.