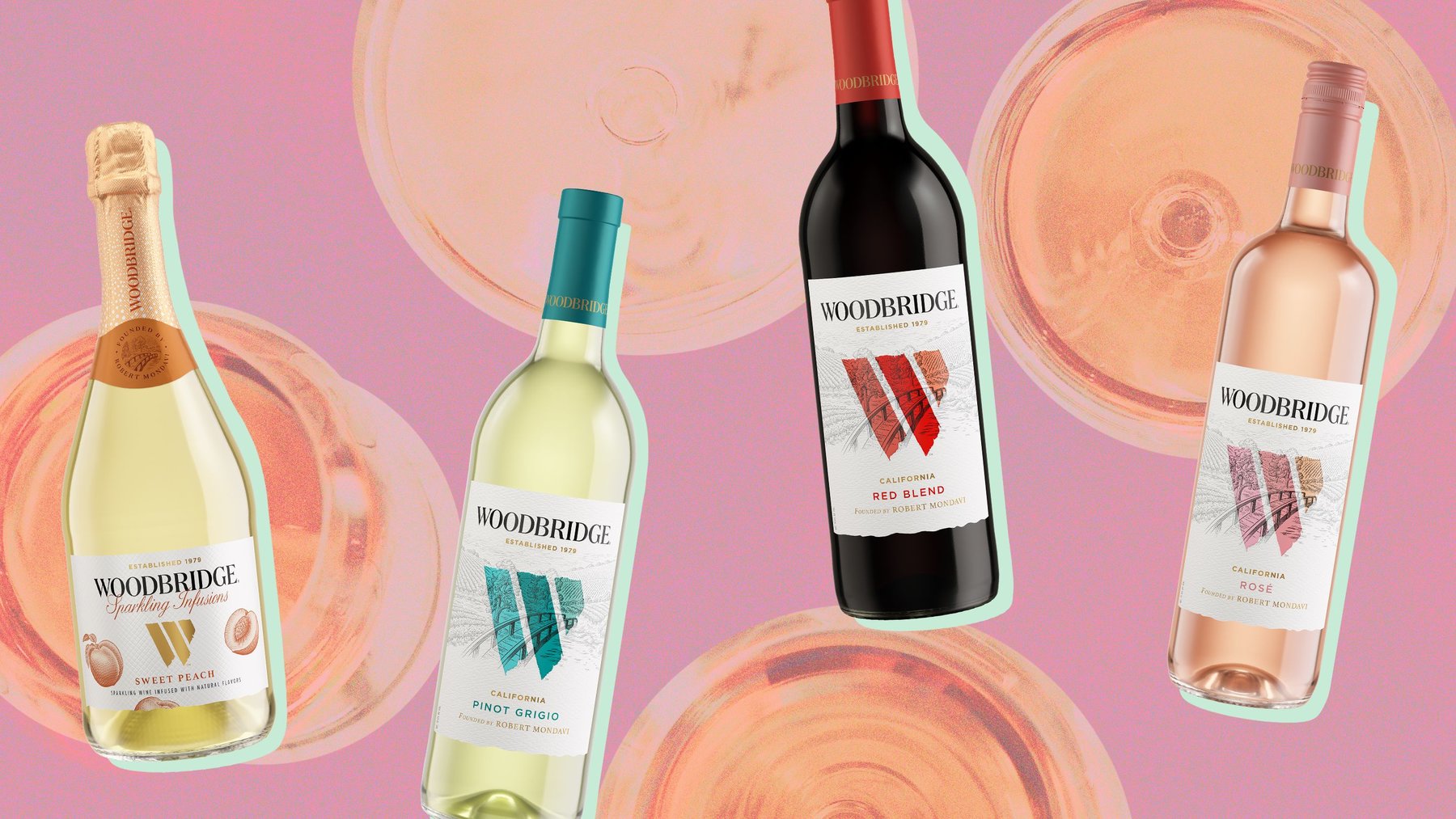 DISCLAIMER: Same Delicious Wine. New Packaging Coming Summer 2022.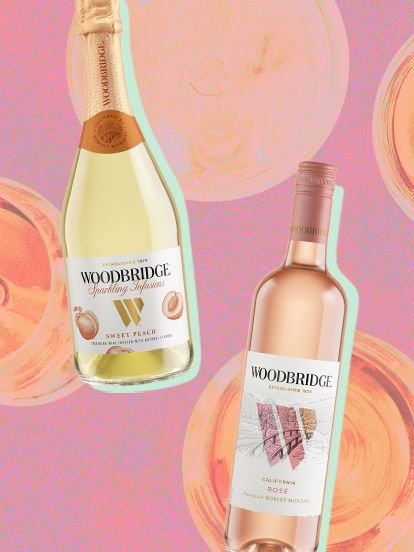 DISCLAIMER: Same Delicious Wine. New Packaging Coming Summer 2022.
As Thrillist editors, we're the type of folks who are just as comfortable in a fast food drive through as we are at a swanky rooftop bar. That said, when a label describes a wine as "saucy with notes of charred leather and pencil shavings"— well, we even feel a little lost. So we asked ourselves: why does something as simple and delicious as a glass of wine need to be so downright confusing... not to mention snobby?
Fact is, it shouldn't be. In an effort to simplify wine just a smidge, we decided to test one of the most approachable California wine brands out there, Woodbridge by Robert Mondavi, and present our first impressions to the masses. Thanks to their laidback vibe and delicious taste, these wines are the perfect antidote to wine snobbery, so we certainly recommend picking up a few bottles yourself.
As for us, our vino expertise ranges from casual expert, to mid-level enthusiasts, to those who still struggle to pop champagne corks — A.K.A., a decent sampling of the overall wine-drinking populace. So, armed with some chips and queso, microwave popcorn, and chocolate chip cookies, we hosted a wine tasting our way – in hopes that the next time you're shopping for a bottle, you'll feel empowered to do the same.
First Impressions:
"This is what I see myself drinking after a long Tuesday, on my couch, in some sweatpants. Or, maybe in the bathtub. Simply put, it's easy to drink and tastes just like how I want a rosé to taste like... is rosé the millennial version of white zin?" — Christie Rotondo, Senior Editor
"I like the color — it's not too pink. It has a similar coloring to a Provence rosé. Overall this is very easy to drink; not too sweet, not too dry. I would drink this poolside, in a plastic cup (for safety) and so it can join me in the pool while I lounge on a float." —Andrea Morabito, Director, Branded Content
"The scent of this makes me feel pretty and soft. It's not dry at all; it has a lightness that's perfect for a spa day at home. It's what I'd reach for on a Friday night in."— Moná Thomas, Living Editor
Food Pairing Suggestions:
"Tacos, Chinese takeout, or something spicy would really round this out." - C.R.
"Chips and guac and rosé is a match made in heaven. It's basically the perfect summer pairing." —A.M
First Impressions:
"I love a chilled white and this one hit the spot — crisp and very drinkable. I would bring grab-and-go box of this up a mountain just to sip on it at the peak. Alternatively, I'd settle for cracking open a bottle during a rooftop hang." —Stephen Rubino, Editor
"I'm not a huge white wine drinker, mostly because I prefer full-bodied red wines, but I was into this one! I was nervous about the pinot grigio being too sweet, but this one definitely is not. This is what I'd bring to Friendsgiving hosted by a Capricorn — it's chill, but put-together." — C.R.
"Given it's a pinot grigio, I expected this to be more sweet, but it's really more moderate. This is the wine I'll be having by the glass after this tasting. At home, this would be my 'cooking dinner' wine, I'd sip on it while watching the stove and chatting with guests." —A.M.
"This wine has upscale energy, but is still approachable. I can imagine having this at a sophisticated dinner party or networking mixer." —M. T.
Food Pairing Suggestions:
"Something a little fancy, but not bougie, like an elevated weeknight dinner or a new recipe you're trying for the first time." — C.R.
"The first time making a steak at home." — M.T.
"This would pair nicely with any number of dinner party classics: I'm thinking pasta, fish, fruit, or a cheese plate." —A.M.
First Impressions:
"Smooth, not too acidic. It's very sweet, but in a ripe fruit kind of way. It's very accessible, like wine for people that don't usually do wine. It has a lot of fruitiness, raspberry and prune-y. I'd reach for this while under the covers, watching a scary movie."— S.R.
"This is my glass while I'm cooking dinner. It's also not so precious that I couldn't cook with it. It smells good, is a little fruity, zero dryness. Like a casual, approachable red. Definitely good for date night, but not a first-date night." — C.R.
"This one has a strong, powerful scent, no dryness at all, and is smooth on the tongue. There's a hint of fruit notes, but it's not overbearing. Red wine is poetic, it needs a romantic, intentional backdrop. This is perfect for a date night with someone special (even if that special someone is yourself)."— M.T.
"This has a fruity smell, a bit of an aftertaste, and is more of a lighter red flavor. If big, full-bodied reds can be intimidating to some, this is much more approachable. I'd serve this after dinner, with dessert. It's crowd-pleasing enough that everyone could pour a glass of this to drink on the couch while continuing the conversation. " — A.M.
Food Pairing Suggestions:
"I will say that so far, it's pairing excellently with cheese crackers." — S.R.
"The same sauce that I made with it. Definitely baked ziti." — C.R.
"I could see this going with chocolate chip cookies or pizza — nothing too formal for this unstuffy wine." — A.M.
"A romantic dinner, maybe even a round of oysters." — M.T.
First Impressions:
"My roommate and I popped this during a now-iconic champagne reference in a movie we were watching, and frankly I can't imagine better circumstances. I see myself kicking back on a summer day with a chilled glass, ideally near some water. The Sweet Peach tastes just like peach ring candies, but with a bubbly finish. It mellows out as you drink it, so the sweetness isn't overwhelming." — S.R.
"The Sweet Peach feels like a mimosa in a glass, while the Black Raspberry would be good for mixing in a wine cocktail. I'd pack the Strawberry Kiwi along for a picnic, maybe after a hike on a hot summer day. Peach was made for brunch though." — C.R.
"The Sweet Peach is giving me bellini vibes—I'm ready for a brunch with the girls on a rooftop. The peach smell is light and fun and is spring weather ready. The Strawberry Kiwi is also great for the outdoor weather, maybe a cookout in a park with friends. They're all very fragrant and put me in the mood for sunshine." — M.T.
"On first sip these taste almost like an Italian soda. If you're looking for something with the casual, easy-drinking vibe of a hard seltzer, but a lot more flavor, I could see you liking these. The Strawberry Kiwi would be refreshing at the beach, served very chilled. The Black Raspberry flavor is what I'd call a porch sipper. Drink while hanging outside, doing absolutely nothing." — A.M.
Food Pairing Suggestions
"Queso and Black Raspberry are working really well together." — C.R.
"Sweet Peach and an omelet, definitely breakfast things." — M.T.
"I'd pair the Strawberry Kiwi with big beach hoagies for a refreshing picnic lunch. For the Peach, I'd lean into anything breakfast-y, like avocado toast or bacon, egg & cheese sandwiches." — A.M.
"Spicy, salted mangoes in the park." — S.R.
If you're also fed up with pretentious attitudes about wine, here are the laid-back (but still delicious) options we recommend picking up: