A Lauded Chef Brings Modern Nikkei to a Whimsical Setting in Hollywood
Gunsmoke will feature Chef Brandon Kida's second-generation Japanese-California cooking in a secret garden.
Published on 7/8/2022 at 3:03 PM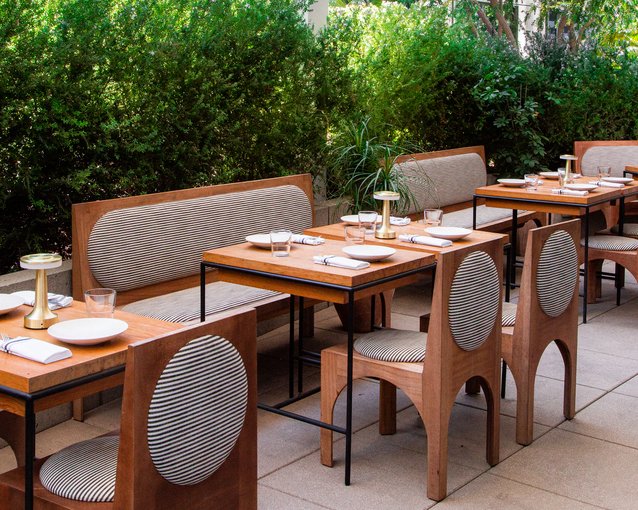 Gunsmoke | Photo by Erick Turcios
There is history in LA, but much of it is hidden; it is fused to modern things, tucked behind high fences, submerged in gallons of tar, or buried under new developments. Gunsmoke, the new SoCal-Nikkei restaurant from Hinoki & The Bird chef Brandon Kida in the heart of Hollywood, is playing with that hidden history in its name and on the menu.
The name takes a cue from its location in the Columbia Square Living tower, an ultra-modern luxury apartment complex on top of the historic CBS Columbia Square studios, which was home to legendary programs on both TV and the radio—it's where they shot the pilot of I Love Lucy, Red Skelton performed there, and it was the radio home of classic Western Gunsmoke.
Gunsmoke | Photo Erick Turcios
The menu is inspired by Kida's own history as a second-generation Japanese-American, fused with French technique and filtered through the lens of his Southern California present, weaving together a patchwork quilt to tell a modern Angeleno story. But it is not dedicated to his specific experience alone—instead, Kida has built a menu designed to celebrate second-generation children from many different cultures, and how they reinterpret their history and heritage through food.
That means each dish is a multicultural melange, with local ingredients seen through the eyes of a chef steeped in many different traditions. In practical terms, the sashimi-style Tuna Crudo is layered with country ham; the Sweet Potato comes with umeboshi and lardon; and the Fried Quail is dressed with both Sichuan peppercorn and salsa verde. If this sounds like it could get muddy, fear not—the menu is concise, just a dozen focused dishes divided into appetizers, vegetables, and proteins, an efficiently constructed and edited set of options.
Gunsmoke Dishes | Photo by Erick Turcios
Gunsmoke Dishes | Photo by Erick Turcios
Rhino Williams of the nearby Hollywood stalwart Lost Property is on to create the drink menu, which will rotate regularly like the food. His signature cocktail in the early days is the Kyoto Iced Tea, a twist on the Long Island Iced Tea with all of the alcohol, but with house-made cantaloupe soda subbing in for cola, and served with a sidecar of more soda so you can customize the cocktail's strength. It is a bright and fun iteration on what may be the drink of the summer, a classic infused with a modern idea.
The restaurant interior is designed to evoke an updated classic look with dark gray walls highlighted by faded gold light fixtures, deep crimson leather booth seats with checkerboard wood for the tables and floor, and the requisite tropical ferns and gold table lamps to brighten things up. But the real highlight of the space is the outdoor seating, a section of hidden patio ringed by tall green foliage, a verdant set of seats that they're calling an urban secret garden.
Gunsmoke | Photo by Erick Turcios
As you sit in a secret garden re-developed around a historic studio, sipping a new version of a century-old cocktail and eating a dish influenced by the stages of Kida's life, it is hard to avoid a thought for where we've been, and, maybe, a little flicker of hope for where we're going.
Gunsmoke opens Friday July 8. They are open Tuesday through Saturday from 5:30 to 9:30 pm. Reservations will be through OpenTable starting next week, and can be made through the website for now.
Ben Mesirow is an Echo Park native who writes TV, fiction, food, and sports. At one time or another, his writing has appeared in The LA Times, Litro, McSweeney's Internet Tendency, Los Angeles Magazine, and scratched into dozens of desks at Walter Reed Middle School.