AdMo's most secretest new superspot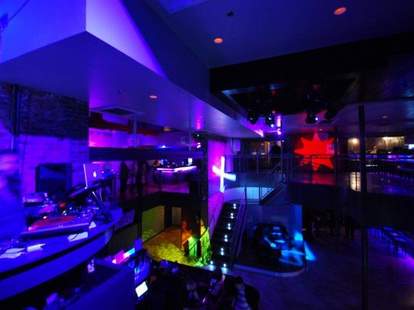 There are many hurdles to enjoying a night at the dance clubs -- they're all downtown, and when you do go, people keep telling you to stop, then asking why you call them "the dance clubs". Mitigating #1: District.
Enabling oontz-oontz without going down to K Street or beyond, District is AdMo's only neon-lit, open dance-floored club & restaurant, the handsome, 2nd floor baby of four twenty-something friends who also own the sushi lounge below -- thus making them the only crew in history who can straight-facedly say "that's how we roll". Accessed via either the sushi spot or a nondescript, satisfyingly shady steel side-door, the massive, retro-futuristic space is decked out in exposed brick and sleek black i-beams, with the ground floor hosting a blue-or-red back-lit main bar and coolly spartan raised VIP areas (couches + light shows on bare walls); above's a wrap-around balcony with more VIP nooks and a jutting, isolated DJ booth -- making requests very difficult without a grappling hook. Because mom told you not to grind on an empty stomach, there's also an in-the-works dinner menu, with planned dishes including everything from creamy peppercorn sauced Bone-in Ribeye and Coconut Curried Chicken to Jumbo Lump Crab Stuffed Jalapenos and the "Premier Grilled Cheese", though if it keeps losing to Hamcheeseter United it might get dropped to "Football League Grilled Cheese".
District is currently throwing private parties, but assuming you don't know a guy who knows a guy, the first open-to-the-public blowout is next Saturday. So, plenty of time to work on #s 2 and 3.