Crazy workouts from dudes who <em>know</em>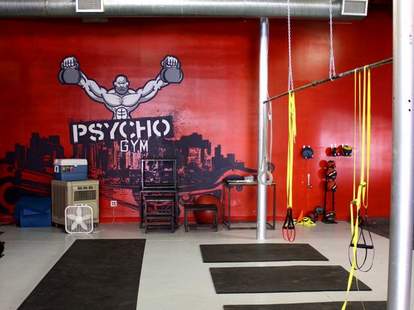 A fitness trainer who's never done anything except train is a bit suspect, like a guy who's a truly impressive masturbator, but knows not the touch of a woman. For a facility headed by two guys with real-world experience to spare, hit Deep Ellum's Psycho Gym.
Psycho's the muscly baby of an ex-college linebacker and a former Marine turned bodybuilder/triathlete who still earns extra supplement money bodyguarding celebrities; their circuit-based "functional training" program's designed to build strength, flexibility and endurance simultaneously, while continuing to burn fat up to 36hrs afterward, long after you've feebly vowed never to go back. The hour-long sessions (during which 10-15 people attack 10 stations each according to fitness level) employ no machines or conventional free weights; instead, techniques range from old-school body-resistance movements (push-/pull-ups, lunges...) to Rocky-esque object abuse like heavy rope coiling and tractor tire hammering (for motivation, just think about that crappy Farm Aid concert). Also incorporated are Russian innovations such as kettlebell slinging and Systema, a martial art that emphasizes striking and dodging with relaxed limbs, also known as tae kwon vodka.
Psycho's only open during early-morning & evening classes, but regular hours and more sessions'll be added as demand dictates; boot camp-style classes also operate out of Addison's Inwood Soccer Center, getting you so fit you're sure to succeed, assuming sex is your gooooooooooooooooal!