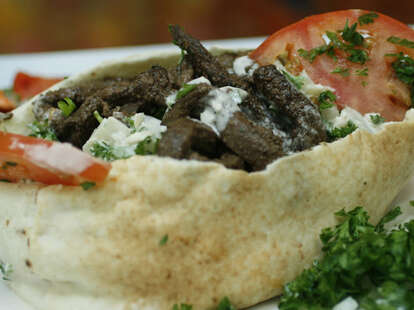 Sometimes an idea comes along that's so clever, yet so simple that you're left pondering, "why didn't I think of that?", until you remember that there already is a cotton gin. For the second greatest idea in history (3am kebabs in Allston), hit Azama Grill, open now.
From a first-time owner, AG's a late-night Middle Eastern take-out joint serving an extensive menu of traditional wrapped favorites and "delicious healthy halal food" in a cozy spot painted deep red with dark stained wood and window ledge seating, which Third Eye Blind wishes you would step back from, their friend. Meaty deliciousness includes yogurt/lemon-marinated charbroiled lamb over rice pilaf; tahini-sauced lean ground beef mixed with onions/spices and served with a side Cairo salad; and the hommus, baba ghanouj and tabouli, lamb/chicken, falafel ball Super Combo (Aquaman costs extra). AG also grills up herb-seasoned and skewered salmon wrapped w/ onions, tomatoes, and green peppers; a hommus or baba ghanouj-topped Middle Eastern Pizza smothered with sharp cheddar, onions, and garlic; and a fava bean, pomegranate, and olive-oil'd Foul rollup that keeps knocking over everybody's beer, and making out with the host's sister.
To quell your midnight sugar fix, there're a handful of authentic treats like Baklawa, Bassma (baked Kunafa dough, pistachios), and flaky butter-brushed phyllo dough layered with pistachios and drizzled with honey called a Birds Nest, which, by the way, would be called a Chad's Nest if those sneaky birds didn't steal your prototype.