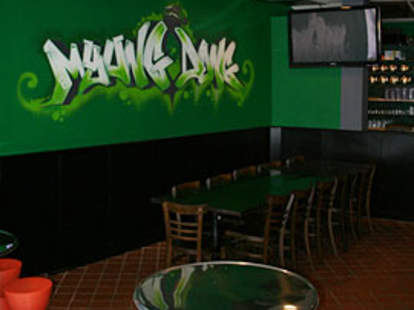 Korea has a long brought pieces of its culture to America -- e.g. Korean food stands driving people to obsess over kimchi, and Kia cars driving people to other car dealerships, to get better cars. Adding dive bars to that list, Myung Dong 1st Avenue, opening tomorrow.
Named for a famous bustling street in Seoul and located in the old spelling bee fan favorite Suvarnabhumi Kiri, MD1 is a "po jang ma cha" (Korean dive bar) from the owners of Buk Kyung I and II, serving beer, wine, and soju (a strong Korean sake) paired w/ an extensive menu of authentic apps, stews, and exotic entrees in a 66-seat space painted grey/green and featuring round mirror-top tables w/ bright orange plastic stools, a long 12-seat family-style group table, and a huge green graffiti painting of the place's name across the wall, giving it that Korean Beat Street feel. Traditional stews include spicy monkfish w/ sliced tofu, assorted veggies and clams; Yuk Gae Jang (shredded beef, egg, and vegetables boiled in a hot spicy soup); and tender short ribs mixed w/ vermicelli noodles, radish, scallions, and egg drop in a beef broth, called Kalbi Tang, whose protracted copyright lawsuit with Pootie Tang remains hopelessly deadlocked. Mo' creative entrees include the thinly sliced pork belly Bossam mixed w/ fresh oysters and lightly salted fermented cabbages; stir-fried squid tossed in a red pepper sauce w/ soba noodles; and Gobchang Bokum -- a dish of veggies blended in a spicy sauce w/ beef intestines and cow stomach, which is only gross if you finish this sentence.
For drinks and small bites while enjoying the Korean music videos on the flat screens, MD1 serves mini egg pancakes filled with crabsticks, stir-fried rice cakes, and pours specialty soju cocktails made w/ watermelon or yogurt and makgeolli, a milky, off-white colored rice alcohol served in copper kettles and sipped out of bowls -- proving that though cultures may vary, everyone likes to drink straight from the bowl.