Along with specials like $2 Beam & Jager shots and $2.50 Bud Lights, every time you buy a regular priced Heineken during the tourney, Hudson'll give you a raffle ticket that'll eventually end up winning someone a Beertender mini-keg system, to help ensure they never get that six-pack.
Recommended Video
Drink This Winter Bourbon Smash and Conquer Cold Weather Forever
Previous Venue
Next Venue
Venue Description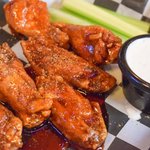 1. Hudson Grille
942 Peachtree St, Atlanta, GA 30309
There are plenty of sports bars in Atlanta, and plenty of them claim to be the best. It'd be foolish to say that Hudson Grille is the number one sports bar in the the city, we're far too diplomatic for that. But it is, however, hands down one of the best. Bros, eat your way through all the game day classics (chicken wings, chili-cheese tots, burgers, and dogs). Bros on a diet, dig into the "Lightweight" section of the menu with items like grilled lemon chicken and pan-seared salmon. At at least you can agree on one thing: there are enough beer and wine options on offer to last you an entire game.