The Best Secret Menu Drinks at Dutch Bros, the In-N-Out of Coffee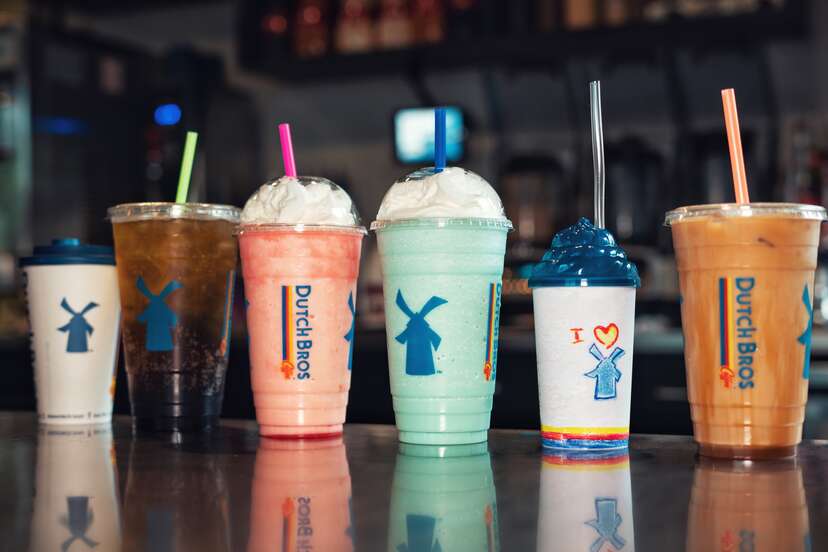 Eric Yevtushok, courtesy of Dutch Bros.
With over 300 locations spanning seven western states, Dutch Bros has grown into a veritable caffeination empire since opening in 1992. The chain's drive-thru kiosks are nearly as ubiquitous in the Pacific NW as pine trees and outdated "Bernie or Bust" bumper stickers.
Dutch Bros functions as the antithesis to the bougie coffee culture of the region that spawned it. Due to its preference for chatty baristas, flavored syrups, and loud pop music, most "serious" coffee people have distanced themselves from its colorful, sugary wares, discounting the chain as a hybrid of a Starbucks drive-thru and Abercrombie & Fitch at its pre-Jersey Shore cultural apex.
The Grants Pass, Oregon-based brand is certainly unapologetic about employing young, effusive, and spiky-haired "broistas" (their term!) named Tanner in lieu of mumbly, Aeropress-obsessed beardos who can't possibly be paid enough to act like they care (full disclosure: that's me!). But it's high time the coffee-drinking people of America shed the notion that Dutch Bros' intense experiments with sugar and caffeine are for the boorish and unsophisticated and accept it as what it is: the In-N-Out of the coffee world, complete with an extensive secret menu and cultish regional following.
That secret menu -- which is so "secret" that employees have corporate-approved printouts on hand to decode it -- is a rolling database, with fan-favorite concoctions added on a monthly basis. The thing is so massive, it makes In-N-Out's secret/not-secret menu look like White Castle. With everything from lattes to milkshakes to blended energy drink-based beverages on offer, the secret menu at Dutch Bros is a stunning display of everything there is to love about the place.
But it's… a lot. To find the best of the dozens-deep offerings, we approached a Dutch Bros barista in Portland to walk us through a greatest-hits lineup of drinks that span a wide spectrum of flavors, temperatures, and textures, creating a perfect jumping-off point for anyone who's willing to hit up their nearest Dutch Bros and roll the dice on something wild and weird. Without further ado, here are 14 secret menu drinks that are guaranteed to get you jacked at Dutch Bros.
Eric Yevtushok, courtesy of Dutch Bros.
What's in it: White chocolate sauce, chocolate macadamia nut syrup, white espresso, and breve
Those seeking a drink that's sweet, nutty, and balanced will love the White Coffee Cookie. The white espresso works perfectly with the breve thanks to the syrups, resulting in a drink that's creamy, earthy, and just rich enough to appeal to a wide variety of palates.
Eric Yevtushok, courtesy of Dutch Bros.
What's in it: White chocolate sauce, chocolate macadamia syrup, dark chocolate
You'll get lost in the depth of the Dutch Canyon, which is the darker, nuttier cousin of the White Coffee Cookie. The chocolate macadamia syrup tickles the taste buds with a smooth, nutty flavor at the finish, putting a sneaky little twist on the classic mocha flavor everyone loves.
Eric Yevtushok, courtesy of Dutch Bros
What's in it: Nitro cold brew, Irish cream and hazelnut syrups, and cream
Nitro cold brew is impossibly hip at the moment, and now that Dutch Bros brews and cans their own, the sky's the limit for drinks that use it as a strong and frothy base. The Nutty Irishman is pretty basic -- just a couple syrups mixed with cream and a whole can of cold brew on ice -- so feel free to create your own spinoff if you're trying to get completely spun off frosty cold caffeine.
Eric Yevtushok, courtesy of Dutch Bros
What's in it: Strawberry, peach, and coconut syrups and a can of Rebel energy drink over ice
Determined not to be outclassed by Monster Energy and the like, in 2012 Dutch Bros unleashed Rebel, their house brand of energy drink. Employees started tinkering with it immediately, and the Double Rainbro quickly emerged as an off-menu favorite that tastes a lot like something the Beach Boys would've sipped on by the pool in their 1988 hit "Kokomo." Sadly, it contains no rum, but once it leaves the building there's no one stopping you from upgrading it with a mini bottle of Captain Morgan.
Eric Yevtushok, courtesy of Dutch Bros
What's in it: Cinnamon syrup, caramel and white chocolate sauces, Oregon chai, and 2% milk
If you're worried that opting for chai is giving off the impression that you're a boring and uncaffeinated person who still wants to participate in coffee shop culture, this extra-spicy take on the low-stakes classic is certain to turn a few heads. Adding a double-shot so you can get on the same level of turnt-ness as the Dutch Bros crew is recommended, but not essential.
Eric Yevtushok, courtesy of Dutch Bros
What's in it: Dark chocolate sauce, cherry syrup, and vanilla ice cream mix
Fans of an unmentionable hippy-adjacent brand of cherry-and-chocolate ice cream will feel right at home with this smooth, sweet, and tangy blended coffee concoction that hits all the feels on a hot summer day.
Eric Yevtushok, courtesy of Dutch Bros
What's in it: Raspberry syrup, white chocolate sauce, English toffee syrup, and milk
English toffee is a weird addition to a mocha, but I'll be damned if it doesn't make the Raspberry Truffle Mocha test almost identical to everyone's favorite selection from the Whitman's Sampler boxes that are omnipresent around the holidays. If you're the person who always gets stuck with the dark chocolate coconut candies, there's a good chance Dutch Bros can make you something that tastes just like it as a consolation for your shitty luck.
Eric Yevtushok, courtesy of Dutch Broos
What's in it: Vanilla and chocolate macadamia nut syrups and chocolate milk
Props to Dutch Bros for skipping Torani marshmallow syrup, which lurks in the same uncanny valley of wretched beverage flavors as coconut LaCroix, and achieving a far more tasty effect with a DIY workaround. I never knew I'd ever want to drink a caffeinated take on a s'mores, but adding espresso to the campfire classic is far too delicious to pass up at this point in my life.
What's in it: White chocolate sauce, creme de menthe syrup, breve, and espresso
As its name implies, the Ninja is a sneaky good go-to for a great many Dutch Bros baristas, and for a logical reason: It packs a punch of espresso that's carefully cloaked behind smooth creme de menthe syrup, which means you can cram at least a quad shot in there before you even begin to notice.
What's in it: Dark chocolate sauce, banana and coconut syrups, and ice cream
It's unclear how Dutch Bros landed on the name for this delicious banana-and-chocolate milkshake (or "frost" as the Bros call it), but "jamming" all these ingredients into a blender doesn't make any less sense than the headphones, iced tea, or knock-off Toms shoes that also bear the likeness of a certain deceased roots rocker.
Eric Yevtushok, courtesy of Dutch Bros
What's in it: Pomegranate and peach syrups and lemonade
The original iteration of this drink used Rebel as its base, but the addition of lemonade concentrate to their repertoire means frosty cool beverages like the tropical and tangy Palm Beach Lemonade are now possible without the caffeine tremors that come from mainlining energy drinks all day long.
Eric Yevtushok, courtesy of Dutch Bros.
Horchata White Chocolate Mocha
What's in it: Cinnamon syrup, cinnamon sprinkles, nutmeg, white chocolate and caramel sauces, 2% milk
If there's one lesson Dutch Bros is trying to teach you, it's that regular old mochas are boring. The problem with a white mocha is it's often way too sweet, but the horchata mocha cuts that sticky-sweet syrup with cinnamon and nutmeg, which provides a nice counterpoint with a tingly finish. The cinnamon sprinkles add a little crunch to the finish, and the caramel rounds the whole thing out quite nicely.
Eric Yevtushok, courtesy of Dutch Bros
Unicorn Blood Blended Rebel
What's in it: Strawberry and almond syrups, white chocolate sauce, and Rebel
You're still drinking Unicorn Frappuccinos from Starbucks? That's cute. Dutch Bros doesn't have time for that cutesy nonsense, so they've sacrificed a bunch of unicorns and harvested their blood for this concoction that's delightfully colorful and impossibly refreshing in spite of its macabre undertones.
Eric Yevtushok, courtesy of Dutch Bros
Iced Domino French Toast Americano
What's in it: Six shots of espresso (half white espresso, half regular), brown sugar cinnamon syrup, and white chocolate sauce
Before Dutch Bros started making their own iced coffee, iced Americanos were the way to roll for purists in search of the most efficient way to ingest caffeine that didn't involve an IV drip. A six-shooter is intense even for the most dire of fiends, so the addition of brown sugar cinnamon syrup and white chocolate sauce melted with the espresso is a handy (and delicious) way to make that bitter brown stuff palatable when you're desperate to get your fix.
Eric Yevtushok, courtesy of Dutch Bros.
What's in it: Lime, coconut, crème de menthe, iced green tea
I get tremors just thinking about adding the aforementioned flavor combo to a can of Rebel energy drink, so our Broista offered an even more customized spin on this classic post-winter beverage by using iced green tea as the base. The result is a mellow and minty treat that's just sweet enough to satisfy an extreme thirst that can't be helped by plain ice water alone. I can't legally recommend adding rum to this while you're anywhere on Dutch Bros property, but that stray bottle of 151 in your apartment will definitely live its best life if you dump what's left of it in here.
Eric Yevtushok, courtesy of Dutch Bros
What's in it: Six shots, Irish cream syrup, and breve
Back in the day, Dutch Bros made their name with a relatively small menu that had just a few readymade concoctions that were dialed in perfectly for automobile-bound caffeine junkies. The 911 was one of the early greatest hits, and although it's been relegated to the secret menu, a new generation of Dutch Princesses (and Princes!) have come up in a world where the six-shot glory of the 911 is ordered with a knowing glance from your barista that implies you're an OG who knows what's up.
Eric Yevtushok, courtesy of Dutch Bros
What's in it: A Cubano doubleshot with cinnamon added between pulls
Most third-wave shops would smack you for asking to add raw sugar and cinnamon to the grounds that their shiny new La Marzocco magically converts into espresso, but Dutch Bros' number one priority is getting you stoked on the 'spro any way you'd like it. The Fireball is a work of art even the most hardened of baristas can enjoy, with spicy and sweet undertones that perfectly temper the bitter flavor of straight up espresso. If you didn't think Dutch Bros was capable of making "normal" coffee drinks for snobs, now you know!
Sign up here for our daily Thrillist email, get Eatmail for more food coverage, and subscribe here for our YouTube channel to get your fix of the best in food/drink/fun.
Pete Cottell is a hardened coffee industry veteran who moved to Portland, Oregon, purely because they don't believe in dark roasts there. Follow his screeds against chain-smoking yokels who prefer to have the flavor torched out of their coffee @VanifestDestiny.