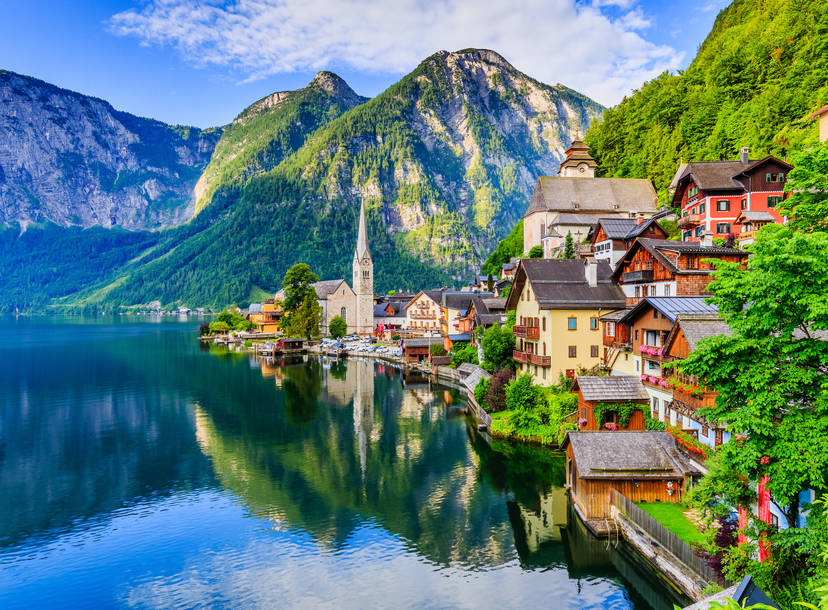 The alpine village of Hallstatt, Austria is thought to be the oldest continuously inhabited village in Europe.

| emperorcosar/shutterstock
The Most Breathtakingly Beautiful Small Towns In the World
Tiny towns, big beauty.
Note: We know COVID-19 is impacting travel plans right now. For a little inspiration, we'll continue to share stories from our favorite places around the world so you can keep daydreaming about your next adventure.
You've promenaded under Osaka Castle during cherry blossom season. Your phone contains fifty shots of the Duomo di Firenze, from just as many angles. When it comes to the most beautiful cities in the world, you've been there, done that, and have the Instas to prove it. It's not that they're not worth visiting: you're looking for more of a challenge. 
Perhaps even more rewarding for the discerning adventurer are those smaller nooks of ravishing beauty, many reachable only by car or boat or trail. On world maps these gorgeous villages and towns are marked only by the teeniest pinprick, assuming they appear at all. None are a secret, exactly, but their very size—often held in check by their physical remoteness—can make them tricky to reach all the same. We're confident, though, that when the world opens up its doors again, you'll find 'em absolutely worth the pursuit.
Shirakawa-go is Japan's answer to an alpine village.

| Sakarin Sawasdinaka/Shutterstock
Shirakawa-go, Japan
Population: 1,630
During wintertime, the isolated Shirakawa-go looks like the platonic ideal of an alpine Christmas village—set along a cold, clear river, isolated atop a mountain. Get closer, and you'll see what at first glance looks like gingerbread houses are actually thatched-roof gassho-zukuri buildings. These structures—whose pitched roofs are three-foot piles of woven reeds, angled to look like praying hands —are why the village was deemed a UNESCO World Heritage site in 1995. That magical scent you're smelling is from the stoves that heat these paper-walled structures to create a winter fantasy land. In the summer, the village turns from white to deep green, and the colorful wildflowers that line the streets give the place the scent of a potpourri dish. —Matt Meltzer

Český Krumlov, Czech Republic: Where Renaissance, Gothic, and Baroque architecture collide.

| Veronika Galkina/Shutterstock
Český Krumlov, Czech Republic
Population: 12,981
Český Krumlov is but a speck on the map: a vermilion-roofed hamlet cradled in a carpet of green nestled in an S-shaped loop of the Vltava River in Southern Bohemia. And it's been a paragon of idyllic small-town life for centuries. Admire the wealth of Renaissance, Gothic, and Baroque architecture, the best examples of which are found in its impressive castle. Take in its old-world charm, which comes in a package of tangled streets and cobblestone alleys; buildings coated with peeling paints of pale yellows, greens, and pinks. —Michelle Rae Uy

Santa Maddalena, Italy is flanked by the Dolomites... the mountains, not the character

| Gaspar Janos/Shutterstock
Santa Maddalena, Italy
Population: 2,166
This little mountainous village in the Dolomites—flanked by a jagged, snow-capped mountains, and green rolling hills—is the stuff of alpine dreams. South Tyrol, the region the town calls home, refers to the southern part of Austria and gives the historical context for why signs here read in German, Italian, and the local language of Ladin. The food you'll find in the handful of restaurants is a similar cultural mix, and this scenic inland town is also skier's paradise come winter. It's not teeming with nightlife. It doesn't have many hotels. Stay a few days, go on a few of the hikes that are only a short ride away, and immerse yourself in the beautiful quiet. —MM
 

St Ives is home to some of the UK's most golden beaches

| Dan Breckwoldt/Shutterstock
St Ives, Cornwall, United Kingdom
Population: 11,226
This former fishing village has blossomed into a bite-sized capital of culture, with an acclaimed arts festival each September and a Tate gallery all its own. But those are just the headline acts. Four golden sand beaches line the headland, with Atlantic breakers on one side and sheltered turquoise waters on the other. The harbor-side "downalong" neighborhood is an enchanting labyrinth of higgledy-piggledy cottages, boutique craft stores, and lots and lots of artist studios. St Ives, you see, has something that no architect can dream up, that no urban planner can commission: a natural light of such majesty that people cross oceans for it. It's what's been drawing creative types to the town for almost a century, from blockbuster names like Bernard Leach and Barbara Hepworth to amateur enthusiasts wielding their first set of watercolors. —Jonathan Melmoth
Jajce, Bosnia and Herzegovina
Population: 30,758
Bosnia has no shortage of ancient mountain towns, but none are better preserved than the stari grad of Jajce. It was the capital of medieval Bosnia, and you can still see the ancient hilltop castle, and explore the warren of curving cobbled streets splayed out below. But Jajce's greatest asset is a natural wonder—the 72-foot Pliva waterfall, which spills over a sheer drop at the confluence of the Pliva and Vrbas rivers. Jajce is bound by water on three sides, making it a prime base for some of Bosnia's best whitewater rafting. —Conor O'Rourke

Wanaka makes a strong case that Southern Alps > Swiss Alps.

| skyearth/shutterstock
Wanaka, New Zealand
Population
: 11,550
Flying into Queenstown airport over the Southern Alps, always
try to snag the window seat
. The airport that serves Queenstown and Wanaka is set dead center in this desert range, which in the winter are more spectacular than their northern namesakes. Overshadowed by
adventure-sporty Queenstown
, tiny Wanaka is the real gem of this region. The quiet streets of downtown are set next to a majestic mountain lake, where families picnic and tourists swim in the shadow of the grand peaks that shine almost pink against the blue sky. For the grandest view of the city, climb up the world's tallest waterfall via ferrata at
Wildwire Wanaka's Lord of the Rungs
. Here, you'll traverse metal rungs nearly 1,300 feet up the side of a cliff, with a cascading waterfall just in front of you.
 —MM
The secret is out on Ko Phi Phi... but it remains a must-see destination.

| DMITRY RUKHLENKO/SHUTTERSTOCK
Ko Phi Phi, Thailand
Population: 2,500
Ko Phi Phi island isn't making anyone's list of underrated anything anymore. But the throngs of tourists that pack this Thai village don't detract from its stunning beauty. Sure, the light tan sand, turquoise waters, and towering emerald-colored limestone cliffs don't feel like a secluded slice of paradise as much as they once did, but that makes them no less awe-inspiring. The crowds will flock to the speedboats and meander to Monkey Beach where bold primates saunter up and ask for food. The beach there is the same tableau of blues and greens that's the trademark of Thai shoreline, and the friendly primates make it a light-hearted way to take in the scenery. —MM
Paraty, Brazil
Population: 43,680
If Instagram designed a town, it would probably look a lot like Paraty, where fragrant bougainvillea spills photogenically from red-tiled roofs and the snap-ready streets are lined with some seriously hardcore door porn. But that would be weird, and thankfully Paraty is much more than just photogenic. It's a snoozy bayside town halfway between Rio and Sao Paulo on Brazil's Atlantic coast. Here, life moves at the pace of a horse-and-cart tottering across the cobbles (no cars allowed in the historic Old Town), and the gleaming colonial architecture is framed by palm trees swaying in the breeze. The boats bobbing in the harbor come in every shade of pretty, and they're not just there to look good. Pick your favorite and set sail for a desert island beach nearby. —JM

Stepantsminda's back yard is the 16,560-foot Mount Kazbek.

| eFesenko/shutterstock
Stepantsminda, Georgia
Population: 
1,326
Architecture and natural beauty rarely enjoy such harmony. All eyes in this valley village face the hilltop 14th-century
Gergeti Trinity Church
and its neighboring belltower both of which enjoy glacier-capped, 16,560-foot
Mount Kazbek
as their backdrop. Natural beauty aside, Stepantsminda is the perfect base camp for exploring Kazbegi National Park's hot springs, waterfalls, and lakes both acidic and carbonated. You're mere miles from the Russian border, which is not as merry a conversation topic here as, say, white versus red—this winery-laden country contains more than 500 grape varietals. —
Bruce Northam
Hallstatt basically looks like stacks of old homes and mountains sitting on top of a mirror.

| canadastock/shutterstock
Hallstatt, Austria
Population: 780
Getting to Hallstatt isn't the easiest. The drive in is dotted with distractingly lovely Austrian spa towns like Bad Ischl that will tempt you off course, and the tiny turn-off is comically missable. Upon your eventual arrival, reward yourself with a pint of Stiegl—which won't dizzy you half as much as the spectacular scenery rising on all sides. Hallstatt is thought to be the oldest continuously inhabited village in Europe. In this improbably narrow Alpine town, pastel Baroque buildings and timber homes are wedged so steeply along the foot of the Dachstein Mountains they look keen to topple over each other. You'll envy the boats their 360-degree view of the Austrian Alps as they lazily chug across the town's watery reflection. —Keller Powell
Guatape, Colombia
Population: 5,000
A couple hours east of Medellín, finding your way to Guatape on land means a bumpy, stomach-churning journey through mountainous terrain. Opt for the helicopter instead and be rewarded with a view of a sprawling artificial lake alive with water-skiers, whose islands float up like submerged turtles (one of them draws tourists to the bombed-out former vacation home of Pablo Escobar). From above you're also safe from the intimidation of the towering La Piedra monolith, whose 649 steps to the top have broken many a freewheeling flâneur. But you'll want to eventually land to experience the crown jewel, the joyful Pueblo de Zócalos, where houses are adorned with colorful hand-painted frescoes of people, shapes, and animals. Here, life is unhurried. Nights are quiet. And the coffee is particularly strong. —Vanita Salisbury
Furnas, The Azores
Population:
 1,439
The world is finally wising up to the Azores, which are
rapidly getting more popular
. It's places like Furnas, nicknamed "The Hydropolis of the World," that make the archipelago so appealing—it's built
atop an active volcanic crater, scattered with geysers, fumaroles, and hot springs
. The geothermal influence extends into the cuisine: The local specialty is cozido, a traditional meat stew cooked in the boiling waters that spew from the geysers. Expect frequent wafts of stinky sulfur gas bubbling up from underground -- this is a good thing, especially when you bathe in the therapeutic springs at Terra Nostra Botanical Garden. Your stresses will melt away, leaving behind only an unmistakable sulphuric-orange tinge on your swimsuit. —
Paul Jebara
Rothenburg ob der Tauber, Germany
Population: 11,391
The towns and castles along Germany's Romantic Road are quintessentially, well, romantic. But reach Rothenburg ob der Tauber (there are a few Rothenburgs; you want this one), and you'll fall hardest for the country's best-preserved, medieval-walled town. Swoon-worthy, half-timbered pastel buildings, medieval stonework, and surprisingly non-kitschy shopping are part of this fairytale town's signature Bavarian recipe. Take a quick dip into the dark side with a visit to the Medieval Crime Museum, which serves an exquisitely disturbing view of torture in the Middle Ages. On a lighter note, the centuries-old vineyards in the surrounding hills of Franconia guarantee fantastic local wines, to give your fairytale a happy ending. —PJ

Suzdal, Russia: Come for the cathedrals, stay for the mead.

| Pavel Suhov/Shutterstock
Suzdal, Russia
Population: 10,535
The smallest of the towns in the "Golden Ring" around Moscow shines the brightest for visitors. Never has an onion looked more appealing than the star-peppered one atop the 13th-century Nativity Cathedral, just one of Suzdal's many spellbinding sights. Ogle ancient frescoes in the Monastery of Saint Euthymius; stroll across a dandelion-dotted meadow to the ornately carved, all-wood Transfiguration Church. Suzdal is a hoof-clopping, breeze-rustling kind of town, and the only hum you'll hear comes from the local bees (speaking of which, don't leave without trying the sweet honey mead). —JM

Eze will forever render all other ocean vistas "meh."

| Arthur R./Shutterstock
Eze, France
Population: 2,343
On the coast between Nice and Monaco, carved into a 1,400-foot mountaintop, is where you'll find this endearing medieval village. The winding cobblestone streets are filled with historical statues from the 1700s and quaint sandstone boutiques festooned with radiant flowers. Your trip isn't complete without a visit to the botanical garden (Jardin Exotique d'Eze) that overlooks the tiny town. Filled with cacti and surrounded by dramatic 360-degree views of the enchanting Cote d'Azur, the garden brings to life that captivating feel unique to the French Riviera. —Shylie Rimmer

Port Douglas might be Australia's most perfect beach town.

| Martin Valigursky/Shutterstock
Port Douglas, Australia
Population:
3,504
Humid, breezy Port Douglas could easily double as the Caribbean, where mountains shine five shades of green and cascade into dreamy blue waters. This town might be on the mainland, but it still operates on island time (set to a chorus of English you're not completely familiar with). Intermingling with wealthy vacationers you'll find
backpackers
and
dive bums
shouldered up at the Ironbar Saloon, preparing to hike the Daintree Rainforest or dive the Great Barrier Reef. And once you're ready to move along, the hour-long drive to Cairns along the Captain Cook Highway is a stunning, tropical version of the Pacific Coast Highway. —
MM
Rincón is Puerto Rico's surf capital.

| Cole Saladino/Thrillist
Rincón, Puerto Rico
Population:
14,056
Situated on the western coast of Puerto Rico, Rincón most famous as
a vibrant surf town
. You can ride the waves yourself whether you're a newbie or the most grizzled surfing veteran, or you can just enjoy watching people wipeout from the comfort of dry land as you sample a variety of rum cocktails (
Tamboo Tavern
is one of the top beach bars in the world). The island of Desecheo a few miles off the coast makes for a gorgeous day trip, and good snorkeling, diving, and fishing spots abound. The coup de grace would be the food trucks, serving up everything from fresh seafood to hot dogs to platanos. —
Kastalia Medrano
Sign up here for our daily Thrillist email, get Next Flight Out for more travel coverage, and subscribe here for our YouTube channel to get your fix of the best in food/drink/fun.