11 Things You Didn't Know About MGM Grand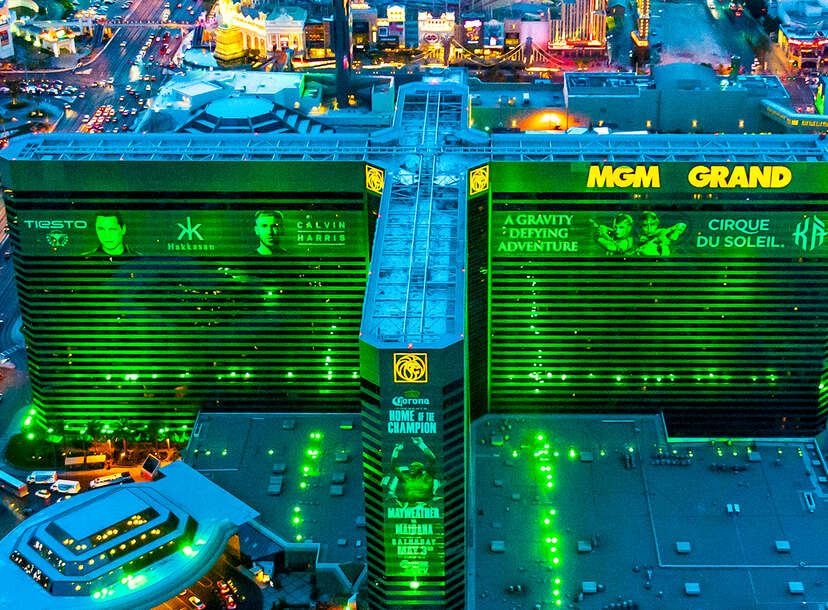 Courtesy of MGM Resorts International 
When we think Vegas, we think MGM Grand. Built in 1991 as a massive extension to the already-huge Marina Hotel, the hotel and casino is as synonymous with Las Vegas as Elvis impersonators. But there's a lot more to it than meets the eye (and what meets the eye is GREEN), so we've rounded up 11 things you didn't know, from lion retirement plans to what it's like to be a high-roller.
501 Studios/Courtesy of MGM Resorts International
1. A small city passes through the hotel, daily
Hotel staff estimate that 70,000 people pass through the hotel each day. So, roughly the same size as Scranton, PA. This crowd is there to hit the casino or stay in one of MGM Grand's 6,852 rooms.

2. Hotel staff wash 92,000 lbs of linens every day
That's a lot of spilled champagne. It makes sense when you consider that 12,000 guests stay at the hotel each night. And a lot of them have stuff to celebrate.
<a href="http://www.flickr.com/photos/pete_the_painter/2942837214" rel="nofollow" target="_blank">pete_the_painter/Flickr</a>
3. The casino is the largest in Vegas
Which is pretty insane for a city not known for moderation. The gaming floor is 170,000 square feet, with over 2,300 gaming machines. Think three football fields, full of slot machines and table games.
<a href="http://www.flickr.com/photos/runneralan/3091055611" rel="nofollow" target="_blank">Alan Kotok/Flickr</a>
4. The fight night average is half a beer per head
Forget Scranton, on a fight night, more than 100,000 people pass through the hotel, and will drink around 50,000 bottles of beer. MGM Grand Garden Arena seats 16,800, so a sold-out fight is no small deal -- and that's not counting the paparazzi watching the front row.

5. It used to be down the street
The first MGM Grand Hotel opened on the site of the old Bonanza Hotel and Casino in 1973, and cost a whopping $106 million -- the equivalent of $560 million today. MGM sold that property in 1985 (it's now Bally's), and moved to the current site at what was once the Marina Hotel. It's like hotel musical chairs.
Will Hart/Courtesy of MGM Resorts International
6. It's Floyd Mayweather's home turf
He first fought at MGM Grand as a 17-year-old amateur in 2004, against Martin Castillo, and has since grown up to set four of the five live gate records there -- top is his 2013 fight against Saul Alvarez, which grossed $20,003,150. MGM Grand loves him so much that they advertised his 2014 Showtime pay-per-view fight against Marcos Maidana with a 20-story mural that read "Home of The Champion."
7. That Tyson vs. Holyfield fight was tough all around
June 28, 1997, the night that Mike Tyson famously bit off a piece of Evander Hollyfield's ear at MGM Grand, was also a rough one for fight referee Mills Lane. He'd sold his shirt to a memorabilia collector before the fight for a measly $200. Post-fight, a shirtless Lane reportedly paced MGM Grand, probably wishing he'd waited till after the fight to cut a deal.
<a href="http://www.flickr.com/photos/52791489@N00/543264474" rel="nofollow" target="_blank">smneale/Flickr</a>
8. It used to be even crazier about lions
The old casino entrance was through a giant lion's mouth, but some players worried it was bad luck to enter a casino this way. In typical Vegas fashion, MGM Grand decided upon a new, 100,000 lb bronze lion statue above the entranceway. The casino lobby also housed a live lion habitat from 1999 to 2012, where guests could watch trainers play with and feed over twenty lions. The retired cats now live with trainer Keith Evans on his ranch outside Vegas. (No, this isn't like when your dog went to "the farm.")
<a href="http://www.flickr.com/photos/xiquinho/5317295688" rel="nofollow" target="_blank">Xiquinho Silva/Flickr</a>
9. $3 can net you a lot there
Some of the slots at MGM Grand will run you $1,000 per spin, with non-jackpot payouts as high as $500,000. The jackpots are even bigger -- for instance, a $3 spin on a slot machine paid out $2.4 million in 2014 (and has probably been crowded ever since). For the really high-stakes players, check out the table games, where bets reportedly run as high as $75,000.
Courtesy of MGM Resorts International
10. You can get a free suite... maybe
VIPs, high-rollers, and guests of the casino spend the night at The Mansion, MGM Grand's ultra-luxurious villas tucked away behind the main hotel. Sure, you can book it, for upwards of $5,000 a night, but the more fun way to get in is to get comped. The reported going rate for a free room here? Gaming in the casino with over $500,000. No big deal.

11. Hakkasan servers make more costume changes than Kimye
Main floor staff at Hakkasan, MGM Grand's five-level nightclub and restaurant, change outfits for each resident DJ set -- up to four a night. Red wine stain? No problem.