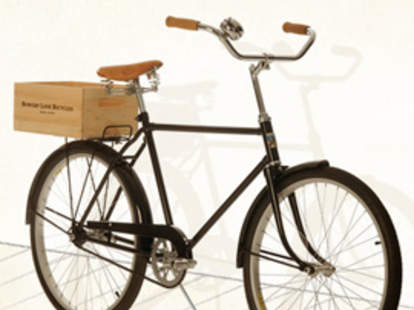 Amsterdam is famed for its leisurely distractions, from unhurried tours of ancient dikes and polders, to herbal-assisted giggling about "dikes" and "polders". Now bringing you that city's most leisurely mode of transportation, Bowery Lane Bicycles.
After one of the few productive Netherlands trips ever taken by Americans, the duo behind Bowery returned with a jaunty mission: add vintage Dutch panache to American urban cycling via a line of bikes handmade exclusively in the US (hey, the Dutch have their hands full). So far, models include the "Broncks" (available black, or "Raw" w/ bare steel and brass joints), sporting a standard diamond-shaped frame, and the step-through frame "Breukelen"; all bikes come fitted with weather-resistant leather "saddles" with dual-spring shock absorbers, old-school, swept-back handlebars with cork grips, Old World-ish front & back fenders, and theft resistant, bolt-on 26" wheels, sure to inspire jealousy in the club-bound Escalades zooming by on their lowly 22's. In an awesomely quaint move, each bike's outfitted with a locally handcrafted wooden crate attached to the rear fender, perfectly measured to fit "two six packs of your favorite local brew", though they can also hold up to 40lbs of other weight, be it "a shopping bag" or "25 LP's" -- so, the perfect accessory for the the drunk, the shopaholic, or the John Cusack.
The bikes are still in the first wave of production, but BLB plans on future models with multi-gear systems to scale hilly cities like San Fransisco, meaning you won't have to grind as much to get high.