Finally slinging slick Mexican munchies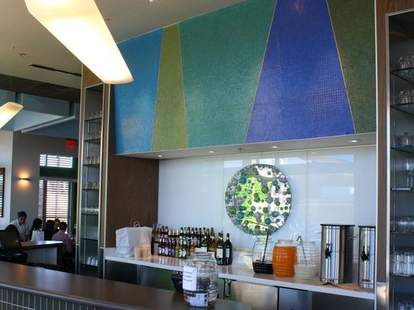 High standards can come at a price -- Stanley Kubrick's perfectionism ran Eyes Wide Shut production to 15 months, but in the end, he extracted Tom Cruise's best performance since...was All The Right Moves that movie where he was in that steel town? Finally satisfied with the readiness of her gourmet tacos, the owner of Taco Mundo.
With white walls and flooring broken up by wall-length strips of mirror and a corner blown-glass mosaic, Mundo's the long-awaited nuevo taqueria from the Carolina's Mexican Cuisine honchette; originally set for a July opening, she delayed mainly because she couldn't find good enough ingredients, a move that cost her a Preston/Royal sister site that would have totally been your mainstay after every trip to Creative Stitches and Gifts. The 14 tacos (4 to an order, with pico/guac/onions/Spanish rice/hot poblano sauces) range from ground beef, and overnight-roasted brisket to tilapia, grilled rib-eye, marinated pork, achiote-soaked chicken, and Angus flank steak in olive oil, which gives the steak the clear, dewy looking skin of a high-fashion model. To round things/you out, there are apps like fish/shrimp ceviche, nachos, and fresh-made flautas, as well as house-specials including sopas, a cilantro/cabbage shrimp burrito, and steak/pork/chicken/brisket tostadas -- as flat as they'll leave your stomach not.
The pale-green tiled bar, guarded by an abstracted glass globe and boomerang-shaped fluorescent lights, is still incomplete, but is nonetheless serving 28 bottled beers, notably Mexico's Tona, Spain's Estrella Damm, and Guatemala's Famosa -- overdo it before chatting it up, and the morning sun will remind you that low standards can also come at a price.