Ever day-dream about what life would be like if you owned a private jet, and could take it anywhere in the world? Fantasize about an all-inclusive vacation somewhere more exotic than Punta Cana, far from its buffet lines and sunburnt masses? Yes? Well stop dreaming and start rounding up seven of your friends 'cause, for a cool $1.5 million, you can book eight spots on an uber exclusive VIP 2wk adventure in Asia and Europe. That's totally less than $14k per person, per night. Doable! Let's climb aboard...
Start in Japan
Your jet-setting begins in Osaka and Kyoto. Admire the Toji Temple, built in the year 826 to serve as the emperor's lavish private retreat, where you'll have exclusive access. Enjoy a private tea ceremony, which may be slightly less fun than a swim-up bar stocked with Presidentes, but way more classy.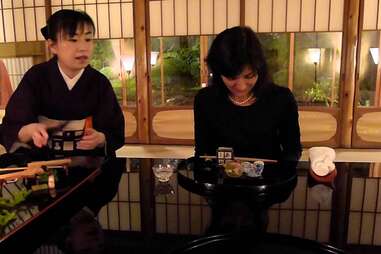 Michelin meals also come with toys
You'll eat nothing but the finest food on this jaunt, at the fanciest restos (no drive-throughs). Start out with the three Michelin-starred supreme sushi experience crafted by none other than Arashiyama Kitcho, the world famous chef.
Sweet dreams
Call the Ritz-Carlton home for a couple nights. And no, in case you were wondering, RC did not pay for the placement of this photograph. Nor did the designer of those sweet top hats and tails, for that matter. Gentlemen.
Capital climbing
Time to re-board your Challenger and set your sights on Beijing, China. You'll no doubt work up a thirst during your private Tai Chi lesson at the Temple of Heaven, but never fear -- a champagne toast and white-cloth picnic atop the Great Wall awaits. Remember, you've got to hydrate. Got to.
Dumplings downtown
Stay at The Peninsula Beijing -- centrally located, and arguably the best five-star in the city. If you've ever wondered what one-million-thread-count Egyptian cotton sheets feel like, you'll probably find out tonight.
Private plane, tram, and automobile? not yet junk
Next up: Hong Kong, by chartered tram car to the top of Victoria Peak. You'll then enjoy a sunset cruise around Victoria Harbour, aboard what the locals call a "junk" (but we're sure you'll think it's anything but).
Local eats at out-of-towner prices
You know how every couple weeks you say to your friends, "We should totally do dim sum sometime", then never get around to actually doing it? Well here's your chance to make good, with lunch at Lung King Heen, Hong Kong's only three-star Michelin restaurant, followed by Zu Di An Muo -- traditional Chinese reflexology.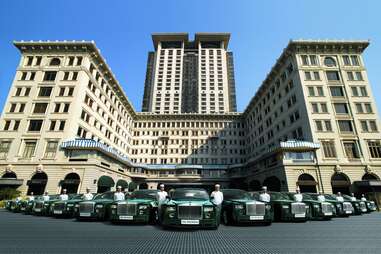 NOW it's time for the automobiles
You're now staying at The Peninsula Hong Kong, which owns a fleet of green Rolls-Royces that harken back to the glamorous '20s, when the property first opened and set the bar for luxury in Asia. Ditch your pilot for a chauffeur and enjoy the city's awesome shopping opportunities.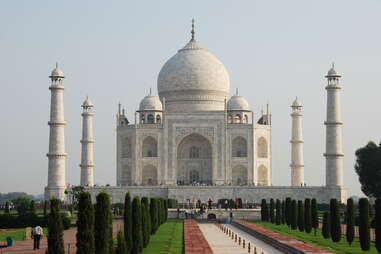 Subcontinent stop-over
China… sooo played. Back to the private jet, 'cause you're heading to Agra, India; no need to wash up, as you'll be greeted at the palatial Oberoi Amarvilas hotel with a shower of rose petals (perfect for masking that new private plane smell that's just so... gauche).
The Taj treatment
Is that a stunning view of the Taj Mahal -- built by Mughal emperor Shah Jahan for his third wife -- out your hotel window, or just some of that crazy scenic wallpaper people put up in their basements?
Asia Minor, but major
Get ready to spend a couple nights in the city where east meets west -- Istanbul, Turkey. An imperial capital for 1,700 years, this place has loads of history you'll want to pack in. Your trip includes a private demonstration by a troupe of Whirling Dervishes, which sounds both thrilling and terrifying.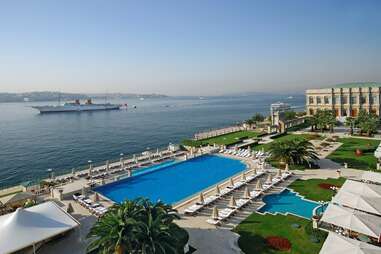 Digs on the Bosphorus
End the day with a lavish meal in the 18th century mansion of an Ottoman royal before indulging in a nightcap at the ultra-luxe/ palatial Ciragan Palace Hotel Kempinski's Le Fumoir bar. A Montecristo cigar and a shot of Johnnie Walker will set you back a cool buck twenty here.
Go ahead and DARE 'em to be rude
Bonjour, Paris. Not only the language of love, French is also the tongue that makes "Wanna see my private jet" sound classy (and totally not like "jet" is a word for something else). Re-enact your favorite Owen Wilson scenes from Midnight in Paris before spending an evening perched atop the Eiffel Tower at the Jules Verne restaurant. From there, you'll choose between an array of exclusive activities like private, after-hours access to the Louvre, a Hidden Versailles Tour that lets you into Louis XV and Louis XVI's opulent private quarters, or a walking tour with a Parisian restaurant critic.
Sleep with a celebrity
Finally, rub shoulders with Jay, Bey, Kim, and Kanye at Le Meurice, one of the rap world's favorite hotels (and one that's almost impossible to book). Are you and your buddies sold? Shred that "pool towel" wristband and book "Passport to the World" now. Just think... There's your Christmas shopping, DONE!