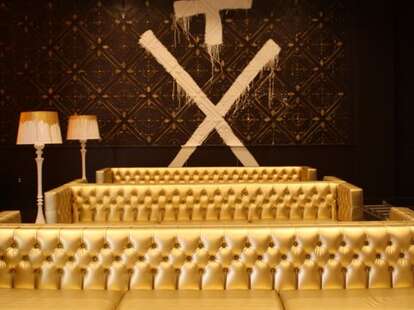 Gold is the color that usually signifies the best of the best, or in the case of WWE's Goldust, not that. Brazenly bringing the gold standard to Midtown's newest hangout, Aurum Lounge.
Latin for "gold", Aurum's a swanky 83-seat shrine of swigs & snacks, almost totally saturated in the precious metal's hue: six long leather couches with glass-topped, gold paint-dripped white rectangular tables, an illuminated gold/cream marble bar w/ croc-skinned stools, chain-hung, gold-glittered overhead lampshade lighting, and a 12ft-wide projection screen framed in gold, which you can only pray will never display any Members. Grown-up libations include bottled brews like Peroni, Duvel, and Chimay, plus 15 cocktails, including the Aurum Infusion (seasonal house-infused vodkas, served either up or as a shot), the Basil Collins (Tanqueray No. 10, lemonade, fresh basil, club soda), and the Grey Goose L'Orange/Red Bull/triple sec/cranberry juice "The Bitch" -- drink enough of it, and it's sure to make you its. For edibles, they'll set you up with small Greek "Meze" plates like olive tapenade, yogurt tzatziki, feta, and eggplant dip; there're also snacks like the Italian deli plate, warm flat-breaded dishes like roasted chicken w/ pesto & parm, and spicy salami w/ tomato sauce & mozzarella, and the Junk Food Plate, which lets you pick four classic munchies from eight choices -- Cracker Jacks, gummy bears, Smarties, M&Ms, Beer Nuts, Skittles, Sour Patch Kids, and Junior Mints -- hopefully providing cover if your breath's smelling senior
Aurum's expecting to officially open Wednesday, and'll rotate its DJ roster to encompass various sounds, including international, R&B, 80s jams, reggae, and techno -- the perfect soundtrack for those evenings so excessive, you end up getting handled by the Undertaker.