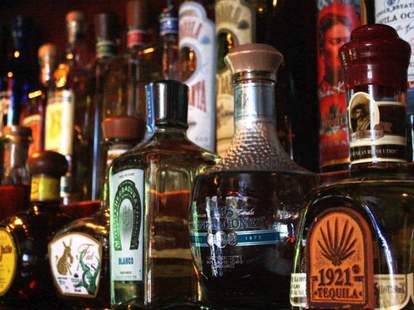 An easy way to make something feel cool is to make it member's only, though if you're really cool, you'll make it Vuarnet France jackets. Here to make you even cooler than that, Bone Garden's Tequila Club.
Commencing this Saturday during the Mexican cantina's 2nd-anniversary bash is Tequila Club: a nobleman's challenge to sample all 50 agave hooches on their menu under the guidance of house mixologist Michael Cook, charting your progress and rewarding drinking diligence with a $25 gift certif at the halfway point, various liquor-co swag throughout, and once you've run the gamut, the chance to concoct your very own margarita, which'll go on the menu next to your name, which won't be that big a deal if your name is "Sizzling Fajitas". In addition to more-familiar 'quilas like Corzo, El Jimador, and Milagro, you'll encounter Frida Kahlo Reposado, produced w/ the blessing of the iconic Mexican artist's family, the Jalisco-originated Cazadores (whose recipe was a family secret for 50 years), and easy-drinking 901 Silver, apparently made by Justin Timberlake (note: do NOT serve at 98 Degrees). Further required drinking includes 19-month-oak-barrel-aged, crazy-strong Fat Ass Anejo (not recommended as a starting point save for seasoned tequila vets), small-batch/super-distilled Maestro Dobel Diamond (their smoothest, according to Mike), and three varieties of Tequila Ocho, presumably inspired by the classic "siete, ocho, nueve" joke that really doesn't work in Spanish.
Saturday's party'll have live tunes from tiki band Walk The Plank, cake, carnitas-topped Huaraches, and a "La Vida Baja" special (can of Mex beer w/ a shot of tequila), and anytime you order a tequila, you'll get to draw from a grab bag with stuff like coupons reducing menu items to $2, including tacos, burritos, and Laughing Skull beer, which clearly saw you show up to The Vuarnet club with a Surf Style jacket.