Salesman sells out to craft his own gear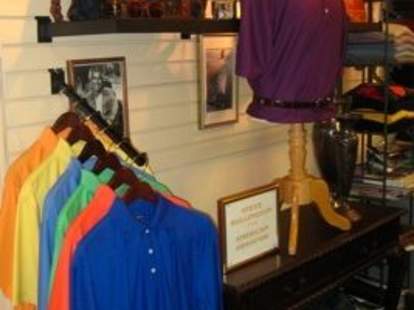 The first rule of sales is "Always Be Closing", but if that were really true, how would anyone ever get into the shop to buy stuff? For a guy leaving that confusing world to make the goods himself, check out Bullington Clothing.
An ATL-based collection of shirts, shoes, luggage, and accessories, Bullington's the first run at dud-designing from a guy with 40 years of management/sales experience for Nautica, Como of Italy, and Polo, who spent his childhood between downtown ATL and Sea Island, which inspired his merging of "downtown chic" and "resort-style flair" (think Nature Boy in lots of madras). The line starts with sweat-wicking/quick-drying Dri-Way polos w/ stripes or in 13 solid colors (from navy to kiwi green), then moves to cashmere sweaters in cable and two-ply knits (black, red, sage, pumpkin...), whose softness and durability are due to the yarn being "inner Mongolian", also a film in which Dennis Quaid pilots a microscopic ship through Genghis Khan's body. Also available're a tidy collection of plaid or solid water-repellent "windshirts", plus outerwear like the Utility canvas vest (w/ multiple storage pockets & cowhide inner collar), and jackets like the tobacco green, double chest-pocketed Southern Cross, or the slimmer, mustard yellow Pilbara, both treated with rugged "gunn worn" canvas that's "made to fade", leading people to confuse your jacket for Kid's head.
Bullington's also slingin' luggage like the rounded brown/tan Whacka bag, or the laptop-ready Bushman, plus leather footwear including loafers like the tan Marco and the brass-accented Warwick -- reminding you of the famed midget actor Davis' mantra he could never live up to: Always Be Growing.