Career Fashion Consignment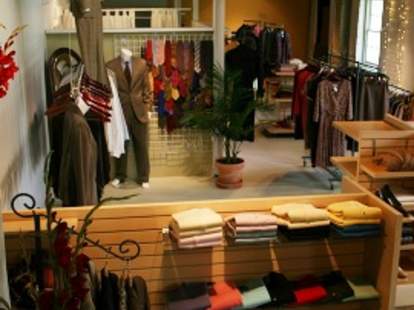 They say you should dress for the job you want, not the job you have, unless you want a job at Chili's, at which point you should dress in the kind of clothes people hang themselves in. Get dressed for just about any job on the cheap, at Career Fashion Consignment.
Just-opened CFC's a consignment clothing depot hell-bent on getting you in cut-rate designer business duds, peddling both new and gently used suits, shirts, slacks, and shoes, all put together by your average Hurricane Katrina survivor/political consultant/equestrian-academy-founder. They're stocking everything from basic accessories (wallets, briefcases, notepad portfolios...), to high-end fashion labels at low-end prices, including a 100+ Armani-/Gucci-heavy silk tie inventory 1/3 off retail, Brooks Brothers slacks for $30, Polo buttondowns for $15, and ostrich-skin belts for $50 from Perry Ellis' noted "Poacher Couture" line. They'll also happily accept up to 15 items per consigner per visit on a seasonal basis (eg, now through December, they're taking fall/winter gear), putting your guideline-passing threads (less than 2 years old; free of stains, smells, snags...) on the floor for 90 days and giving you 45% of any sales; they don't take a bunch of stuff, like t-shirts, shorts, jeans, hats, sneakers, or "career killers", so you'll just have to use Craigslist for unloading your Ted Bundy.
Their grand opening throwdown's this Saturday, complete with live music, gratis eats from Hiery & Dexter Cafe, and free Hurricanes -- throw back a bunch to maintain the Chili's off-work tradition of totally cutting noose.