Former house of fine dining goes fishy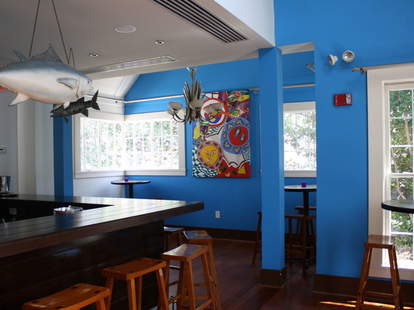 The ocean is full of boundless wonders, but it has its drawbacks: oil spills, rough waves, and that you and the Caribbean queen never get to have your own dreams. Giving you the feel of being on the ocean sans Billy, Coast Seafood & Raw Bar.
Taking over what used to be ritzy Southern eatery Home, Coast's a more-humble abode of sea-based snacks, sammies, and more, remodeled with an oceanic theme: fresh-painted white & blue walls, a square wooden bar with overhanging metallic tuna and tiger sharks, a tank full of live (for the moment, at least) lobsters and oysters, and, pulled from a century-old ship, a 200lb wooden steering helm, just to make you feel a little less Titanic. Set sail with crab & shrimp Vietnamese summer rolls w/ chili lime dip or shrimp tempura w/ tiger sauce; from there, nab a basket of fried-ness (shrimp, scallops, catfish, oysters...) or sandwiches like a Maine lobster roll and the "1lb Hubcap Cheeseburger", named for its resemblance to the real thing, so don't leave your burger parked too long on Old National. There're also "raw & steamed" edibles like chilled half-shell oysters, lobster, and snow crab legs, plus Hot Chili Seafood (shrimp, scallops & calamari), seven "Fresh Catch" choices (yellow fin, snapper, blue cod...), and lemon sole w/ mashed potatoes, spinach & capers -- just know that any plans to eat them will be foiled if you bring along the Hardy Boys, those guys can't get enough of those things.
Manage to dig up a date, and $50 gets you a bottle of their private label wine, two starters/mains, and a dessert in "Tom's Best Meal Deal"; there're also other meals for multiples, like the seafood boil of shrimp, mussels, clams & crab mixed w/ corn & potatoes, and a tower rocking peel & eat shrimp, oysters, lobster, mussels, and lump crab meat -- eat it all, and the best you can hope for is love on the waddle.