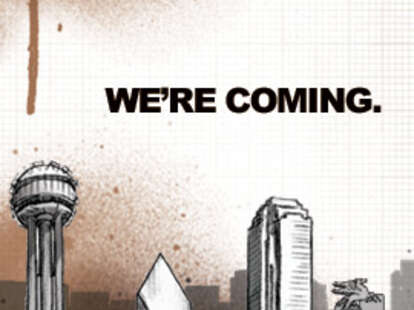 Even in a city as aggressive about leisure as Dallas, the most intrepid men can get caught in a rut, drinking the same booze, rubbing the same elbows, and passing out in the same apartment courtyard hot tub that once seemed so full of promise, but now bubbles with shame.
Because Texas needs our nurturing embrace, we're amping up to launch Thrillist Dallas in just a few short weeks.Spread the word, and tell your Dallas friends to get on the list.
Just like you're accustomed to, we'll be hustling to bring your Dallas peeps an irresponsible glut of local riches: from a lounge ridiculously luxe enough to draw them back into a former demilitarized zone, to suburban straight-razor samurai invading their neck of the woods, to a middle-of-nowhere bar with a ramshackle backyard fit for a redneck granddad, and a booze policy fit for a redneck granddad.
Don't let your Dallas friends live in the haunted shadows of Thrillist-lessness, where hideous vampire bats attack at nightfall, even though the blood of non-subscribers can taste a bit bland. Get them to sign up, and re-emerge handsomely into the light.
Of course if you have any business at all in Dallas, or just want to keep up with The Cubes, Thrillist Dallas is for you too, so sign up. But really -- tell your friends.