Ballroom gets blitzed to make way for bar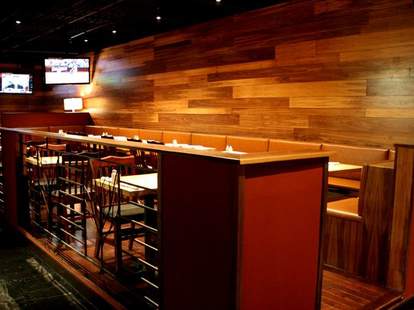 They say never judge a book by its cover, although that doesn't apply to the ones with a painted version of Fabio on them. Those are every bit as good as they seem. For a joint with a scarily girly exterior that conceals a dude-lair inside, check out The Ivy.
Ivy's retained some of mansion-esque Carbo's balllroom steez (the building exterior; the patio's marble fountain/white gazebo), but gutted the inside to provide a far more guy-livable, tavern-ish environment thanks to clean-lined dark wood walls/floors/tables and loungy leather banquettes, all from the owners of Athens' General Beauregard's and City Bar, who say they want it to be rowdy, and intend to let customers "talk it up", also a last-ditch effort when you're fresh out of "herbal remedies". Get goin' with roasted jalapeno honey wings or house-cut fries/chips toppable w/ melted Brie, Applewood bacon, chicken, steak, chili, etc, then 'wiches like the "Moose & Man" (fried/buffalo-tossed chicken hoagie w/ gorgonzola), or 1/2lb Angus burgers like the tomato chutney, lager rings & Swiss-topped "Swiss & Wesson", which they admit sounds cheesy, but figured they'd give it a shot. There's also 'za by the slice or pie; build one from the ground up with 25 topping choices (meatballs, mojo-marinated steak strips...), or try one of their specialties like the hot cherry peppers/fried chicken/mozz "Kinger's Inferno", or the chipotle pesto/BBQ chicken/caramelized onion/roasted jalapeno "Firethorn", which is what everyone in Philadelphia's saying after the last Sixers season.
At the fish-mural adorned bar (or the ones in the gazebo and smoker's lounge) they'll have six standard drafts, plus 40+ bottles (Left Hand Milk Stout, Victory Golden Monkey, Palm...), and signature mojitos from "spicy" to "guiltless", both of which describe Savage Persuasion, except for "guiltless".