Coiffures, cocktails & (game) consoles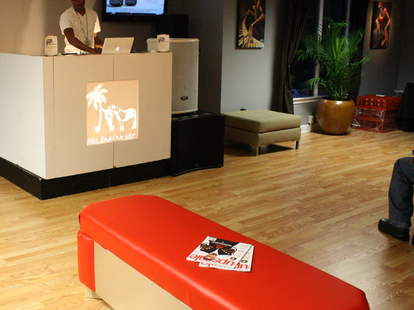 There's a pretty distinct feel to most barbershops: waiting around in a dirty little space, reading ancient copies of Hot Rod, and listening to back-and-forth stories told by a bunch of old dudes who look suspiciously like Eddie Murphy. Even the Jewish one. For one ditching all that for more modern charms, hit GB International.
The shortest acronym ever, GB (Good Business) is an upstairs locks-chopping lounge with seven cuttin' stations, three 42" flatscreens, red stretch ottomans, and glorious extras like video games, plentiful booze, and monthly parties, started by two New Yorkers-turned-Atlantans -- one's a grad of Marietta's Roffler Hairstyling College, the other a retired NYPD detective, so don't accuse him of "taking a little too much off the top". Walk-ins're cool, or you can set an appointment for a full range of cutting services; they'll also handle your hangnails via man-icures, or even give you a deep cleaning/moisturizing shave and facial...so yeah, they totally do haircuts. While you wait, you can throw down with the freshest sports games or Guitar & DJ Hero; because video games everything's more fun when you're un-sober, the gents'll set you up with a free brew (Peroni, Stella...), glass of vino, or cocktail like the signature "GB", made w/ vodka and a healthy assortment of fruit in a five-gallon jug, as everyone knows the big jugs are always juicier.
Until mid-March, GB'll give you 15% off any cut. Some future plans: having sandwiches for sale all the time, the aforementioned monthly house parties, Friday fish-frys, and, of course, auto-detailing services in the back, so you can just let your Soul Glo as they spiff up your Dr. Martin Luther the Sebring.