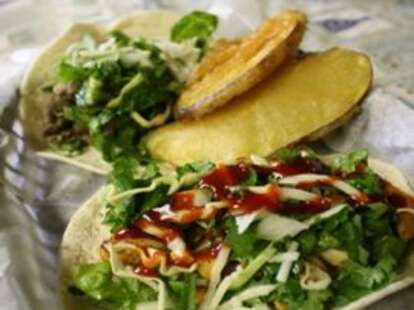 Catering to a ritzy clientele has its pitfalls: patrons can be rude and demanding, tempting the restaurant's staff to get creative when asked for Poupon. For a fine dining vet ditching all that to feed you on the cheap, Hankook Taqueria.
From a Buckhead Life alum who decided to go way-casual after striking out solo to open Norcross French/American eatery Tomas, Hankook's a temple of low-cost Korean BBQ tacos, street snacks, quesadillas, and burritos, set in a 50-seat down-home space with a wood ceiling, bench seating, and kitschy tablecloths with images of kitchen spices, though hopefully not cumin. Tacos're orderable straight from the counter, and served two ways: either with green onion, cabbage and soy sesame vinaigrette, or yellow onion, cilantro and lime juice; meat choices comprise "Dak Gogi" chicken marinated in spicy sauce, Korean BBQ-marinated "Bulgogi" beef, "Daeji Gogi" pulled pork, and the panko-crusted, Hoisin tartar sauce-sided tilapia called "Saeng Seon Jeon", also the name of a popular knockoff urban jumpsuit brand. Additionally, they'll fill you with burritos (same protein/garnish choices, but also stuffed with kim chee fried rice), or jack cheese quesadillas with chicken, beef, or pork; tortilla-less tastes include the fried, ginger-scallion pork "Man-Doo" dumplings, "Naeng-Myung" soba noodles w/ veggies, tempura-fried Korean sweet potatoes, and the thick-n-spicy broth, rice and Pusan fish cake "Duk-Pokee", which Donald can't help but text Daisy about whenever he's had a few.
They'll be serving just lunch for the next month before adding dinner, then beer and wine around the new year; in the meantime, you'll just have to subsist on their house sweet and unsweetened tea, but when it comes to pretentious condiments, it's BYOPoup.