Beloved Buckhead nightclub is back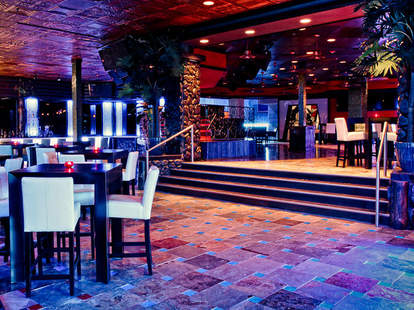 When stuff happens you don't like, there's solace in knowing it was for a reason: when your hamster died, the little fella was old and not really enjoying himself anymore, and when the Buckhead strip closed, it was to keep you from being stabbed by visiting NFL players whose names rhyme with Ray Lewis. Reinventing an adored dance factory in a new, linebacker-free location, Havana Club.
After closing three dark years ago to make way for the safer-for-tourists, perpetually "Coming next year!" Streets of Buckhead project, Havana's officially back this weekend in a new, sprawling triple-room complex, where DJs'll spin top-40 rock, house, and salsa/merengue tunes among faux palms and 100-year-old recycled wood walls pulled from a Texas courthouse to provide "old-world ambiance" -- so...Texas, Spain? The entry-area "Stage" zone features cream leather couches and dark wood tables below an elevated level with a concrete/stained glass bar, a shiny red stage for bands & DJs, cabana-style beds, and a walk-in humidor/wine room next to a smoker's lounge with brown leather chairs and natural wood cocktail tables, who don't need no stinking pills! Keep it moving and you'll hit the "Studio", a red-lit, Latin-themed back area for merengue & salsa dancing (free lessons if you arrive early) with a high stage built into the wall for live Cuban bands; next up's the "Gallery", a glistening white expanse in the rear for house music, which'll also double as an event space for art exhibits, runway shows, and high-end dealers flaunting their new cars, which'll leave you wondering Who's Gonna Drive You Home.
Havana's hosting two huge events for this weekend's launch: complimentary hors d'oeuvres & an open bar from 9-11pm at "The Friday Night Escape", then the same deal from 8:30-10pm for Saturday night's grand opening -- which thanks to their "No Ravens Linebackers" door policy, doesn't refer to your throat.