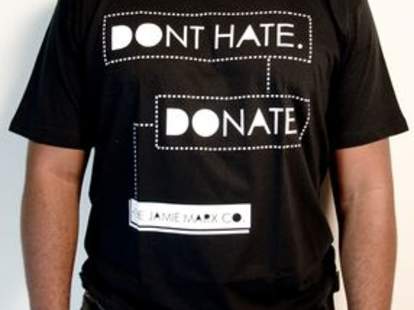 It's great to be passionate about political issues like war, health care, and free trade, as long as you don't have to fight, perform surgery, or give up your Terry Pendleton Rated Rookie. Well, now you don't, thanks to statement-making clothing from Jamie Marx
Just dropping an expansive new collection, Marx is an ATL-based brand fashioning surprisingly sweet tees with politically inspired messages and insights, started shortly after the 2004 presidential election by a guy who briefly ran his own consignment shop before deciding to make clothing "to provoke people to take action instead of just complaining about world affairs", like that time China totally slept with Azerbaijan in a La Quinta. The new "Mr. Marx Militia" drop's got 20 mostly black or white tees, like anti-violence/crime affairs like "Ghost Bullet", featuring a round of ammo with a cig-smoking ghoul image drawn around it, the red-forehead-stained "Lincoln", "JFK", w/ a blood-splattered half-dollar coin, and the bullseye-fronted "Target", whose online description suggests that "when you get to the top you become the target", something T.J. Maxx is just going to have to accept. Less-serious styles include "Save The Wild", w/ a conjoined zebra/cheetah, "Big Bills and Icy Grills" in white comic book-style font, "Made In", which drops "in China" between "Made" and "By An American Company", and "Don't Hate Donate", which apparently itself hates commas that make its meaning clear.
Marx is also prepping the release of its upcoming collection "The Standard Issue", which'll be limited to 100 pieces of each model, and'll come with a random art or furniture piece matching the theme of the designs, because nothing says "I stand up for my political beliefs" like a TV dinner tray.