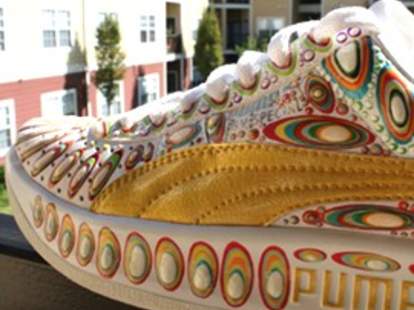 Everyone enjoys a good wedding, even though they only guarantee dried-out chicken, boring speeches, and sleeping with drunk bridesmaids you didn't realize were your cousins. Yep, definitely had noooo idea about that. But sometimes, they also mean custom shoes, if you're Kick Factory.
A-Town-based KF's a one-man custom sneaker-and-more operation that'll turn your kicks/duds into fashionable art, run by an AIA student ambitiously named "Mike", who got his start painting a pair of Air Force Ones to match a polo shirt he wore to his aunt's wedding -- he wasn't sure how they'd go over, but fortunately they were a smashing success, although the jury's still out on that polo. Call Mike and let him know what type of shoes you need pimped (Stan Smiths and AF1s are his faves), and the look you're going for, including colors, theme, and overall design, and he'll go to work with acrylic paints, finishing basic jobs in as little as 2-3 hours, or intricate creations (3D, paints layered in the thousands for bead-like effects) in up to four days; completed works include the multi-state "License Plate Stan", and the green/gold-bubbled "Jaw Breaker", which should help separate you from the Runts and Nerds. Customized shirts, jeans, cashmere sweaters, etc, usually take two weeks; he specializes in Adidas track jackets, which he can pimp to your liking, but will also sell you pre-tweaked versions, like one with rainforest-like leaf patterns in pink, lime, gold, and lavender on a forest green jacket, proving true the timeless mantra "it paint easy being green".
If you're not wired for creativity, you can have Mike take the reigns on your sneaks for you; also nab canvas paintings like "Molecule Gathering" featuring multicolored paint-beads, ovals, and blue & orange starfish-looking cells, or the "Purp Molecule", exactly what every little bit of you will be after everyone finds out what happened after "Twist and Shout".