Hookas and vittles where you least expect them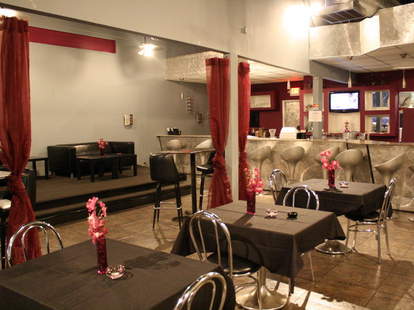 History is full of great pioneers, from Columbus to Daniel Boone, who bravely headed west and established the Farm that kept early settlers happily swerved on Blue Hawaiian. Colonizing a just-evolving neighborhood with food & smoke, Leverage Food Lounge.
Opening today in the SWATS, Leverage is a platinum parlor for hookah smoking, weekly shindigs, and low-cost late-night provisions from a Wolfgang Puck-trained chef, who drastically upgraded the former Chrome Oyster Bar with a polished stone bar w/ silver barstools, an elevated stage for live performances, circular black & silver-striped booths, and steel wall-mounted light fixtures that resemble blue-lit tic-tac-toe boxes, so prepare to think more than you want to about your X. Doors're open from 5pm to 6am every damn night (thanks, city's most expensive liquor license!), and the all-under-$10 menu's available 'til close; things start with hot teriyaki wings and Roma tomato bruschetta on toasted ciabatta, plus Asian tapas (mini turkey egg rolls w/ fried rice) and Creole soups (étouffée, gumbo, jambalaya), while dinners include panko-breaded butterflied shrimp w/ spicy chili sauce, and lightly fried catfish, tilapia, or whiting "Fish Strips" -- so, bring singles. Sips include $2 bottled standards (Bud, Heineken, Corona), in-development signature "Leverage" martinis, plus always-$4 well cocktails, while things get smoky with hookah flavor options like mint, orange, pina colada, grape, and apple, whose major selling point is that you're gonna get a virus puffing that PC stuff.
Recurring weekly events include an Interscope Records-sponsored talent showcase of developing artists, spoken word poetry/comedy nights on Tuesdays, and a singles mixer on Monday nights, at which you can pioneer the idea of buying women something other than liters of Melon Ball.