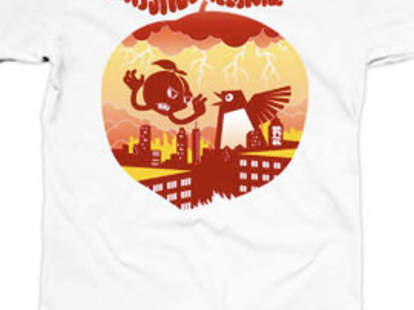 Seeing your nurturing pay off is great, whether it's a beloved puppy, your small business, or your impotent rage as your small puppy business refuses to become medium. Enjoying that same thrill with an ATL-based apparel business, Linty Fresh.
Owned and operated by a Harrison High grad from his Marietta abode, Linty's a line of ATL-centric streetwear that started nice 'n' small with tees made for high school bands and clubs, and now's grown into a full service operation also creating hoodies and belts, all featuring brightly colored, decidedly bizarre/lively cartoon characters, with at least one new tee design released every first of the month, a Bone Thugs-inspired drop cycle that puts him somewhere between Bizzy and Layzie. Newest tees include the white "Welcome To Atlanta", w/ a Godzilla-like clash of the Big Chicken and the GA Peach under an ominous sky; "Keith the Quiet", featuring a panic-eyed, ice cream cone-licking boy; and the red "Petrol Kid", with a masked & fedora'd gas pump sticking up a train conductor, and an accompanying collectors card poem that reads: "You jus' won't believe the stuff he did!" -- because who's ever felt like they're being robbed at the pump? Older tees'll be on sale 'til August, like the green, brown, & white "Davy Bunyan", w/ a square-headed, log-toting, Crockett/Paul mashup; there're also cheap hoodies for fall like the white "Dotted Line" w/ giant black scissors on the front, or the kelly green "The Most Fantastic Things", featuring a dreaming lady's face and a small forest sprouting from her hair, which really doesn't sound that fantastic for her social life.
Linty has 10 colorful belts in stock, w/ stuff like scissors, funky smiley faces, and a masked, hook-handed finger on the buckle. They're also offering a hoodie/shirt/belt combo in a discounted "Bundle Box", which, the way things're going with your business, is pretty soon how you'll be unloading bulk puppies.