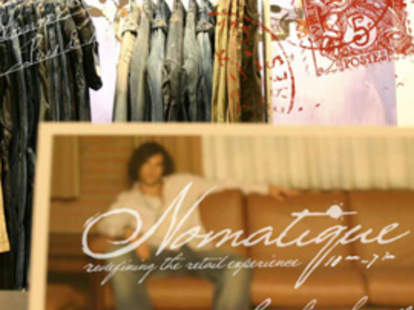 Shopping's rife with danger, with the surging crowds, pushy salespeople, and everyone assuming you're a chick. Giving you a better way to buy: Nomatique.
Nomatique's an all-in-one, crazy-discounted shopping experience featuring 70+ brands from 30 ATL boutiques and independent designers, plus music, art, and more, all set in the 10,000sqft space of a former CompUSA, so there's precious little hope of keeping it on the download. Savings range up to 80% off all manner of gear, including Beta Unit's Times New Robot collection, stuff from Alife, BBC, Rock & Republic, Ice Cream, Creative Recreation, and G-Star, and dapper duds from from local shops including Bill Hallman, Fab'rik, Moda404, Standard, and Wish; Drew Lewis alone has corralled 20 brands, including button-ups, shorts, and polos from Paul Smith, and denim, woven shirts, and tees from Rag & Bone, also your patented pickup move, until it earned you a reputation as a jerk. There's loads more going on thanks to local players, including a lounge area decked with Staceage's bright, wet-metallic-finished Spit-Shined furniture (orderable on-site), a garden lounge with bonsai trees and cacti designed by Tokikata, free wi-fi beamed by C-Channel, Fri & Sat sets spun by DJ Rod Summers, art from David Rams and Art Department Gallery, and guest portraits shot by Matt Odom, who describes himself as a "Photographer/Designer/Pirate", although he's also taking classes to become an arrrrchitect.
Tonight, there'll also be a VIP bash (with 25 plus-one tickets reserved for Thrillist readers) from 7-10pm, featuring Dixie Pin-up photography, DJ Rhythm (95.5 The Beat), and gratis big-boy beverages from Peroni, White Birch Vodka, Horne Spiced Rum, and Savida Sangria, the dainty sipping of which'll prove to everyone just how much of a man you really are.