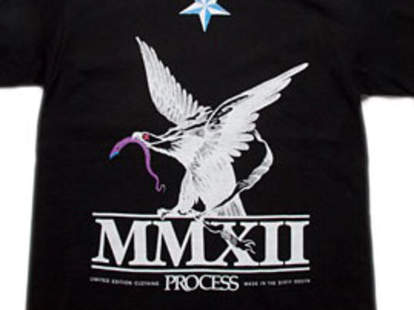 It's of course quite awesome to represent your home through your wardrobe, but are you really doing ATL justice with a Krispy Kreme tee wretchedly befouled with what's hopefully Krispy Kreme? Go local more artfully, with We Are The Process.
From creative agency Epidemik Coalition, WATP's a new line of tees and fitted caps slapped with imaginatively tweaked iconography shouting out Atlanta, the South, and...Greek mythology, which really belongs to everyone. Seriously area-centric designs include "Nokahoma" (a hand-drawn, Braves logo-inspired skull w/ mohawk & gold teeth), "Tomahawks" (platinum & brown, cross-positioned t-hawks), and "Dirty Bird": a bald eagle with red-x eyes, and a snake in its beak as it perches atop "MMXII" -- the year Jamal Anderson'll perform a celebratory dance as he emerges from Fulton County. There's also more general southern action (a rifle-toting, Daisy Dukes-wearing woman named "Bombera"), plus scary randomness like the winged, AK-47-wielding "Death Angel" and the jellyfish-esque "Medusa", best accessorized with a tweeting clockwork owl.
This Friday starting at 6pm, WATP's unveiling the line at both Standard boutique locations (Lenox, P'tree); buy something, and get free admission to the 10pm launch party at El Bar, where you'll discover nothing gets out a "kreme" stain quite like bourbon.