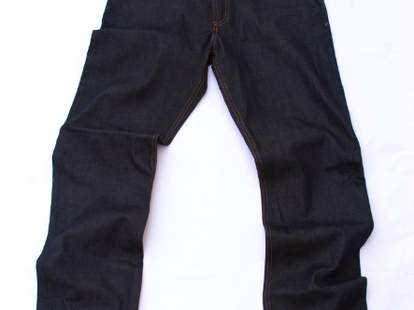 A married couple collaborates on plenty: picking a house, raising kids, buying life insurance together, then devising ways to kill each other for the check. For a husband/wife team putting their heads together to make jeans, check out Raleigh Denim.
Based in -- you guessed it! -- Raleigh, NC, RD's a super-limited jeans operation run by wedded duo Victor and Sarah Lytvinenko, who started the company after creating a pair for Vic that garnered high praise from friends, and're now handling all design and construction under one roof, using all-local materials like fabrics from Greensboro's Cone Mills and labels/zippers from other NC factories, and a next-door wash house for laundering, leaving the Feds completely unable to track your pants. Each pair gets a Euro straight-leg cut, and's made with high-quality selvedge denim on vintage machines, then personally inspected by the Lytvinenkos, given leather patches with its issue number, and individually hand-signed on an interior pocket; newly dropped styles include the dark blue-washed Elliott (four-layer streak gray stitching, button fly), and the Pima cotton, over-dyed raw Edmund, whose light sheen compensates for the fact that people may start calling you "Hillary". Also new's the slightly slimmer, rust-tinted Burke; they've still got stuff from Spring/Summer, like the lightweight, sulfur-dyed, gold-stitched Original Deep Indigo Raw (w/ chain stitch hem), and the Keats, with gray stitching and a slanted back pocket that's just perfect for carrying around all your rhombuses.
Coming in a couple weeks is the Holiday collection, which'll have fresh supplies like the slate-washed, stretched Camden, plus the Lincoln (a mimic of WWII denim), and a new play off the Original called the Wilkes -- giving you jeans named after men who collaborated on totally ruining a play.