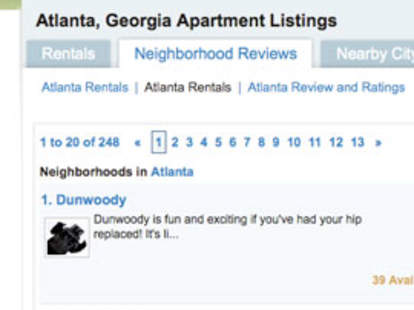 When it comes to apartment hunting, hard data's the first step, but there's no replacing firsthand accounts from neighborhood residents who can give you the lowdown on local amenities, dwelling complex quality, and putrid complex pool lack-of-quality. For both hard facts and hardened opinions, hit RentWiki.com.
RentWiki's an Atl-based service whose clean interface offers both a glut of vital details culled from site research and property managers, and "social rental search" components designed to give you a rounder picture, starting with the fact that your 'hood is full of social networkers. Beyond the basics (Gmap of locations, bed/bath count, price range, deposit...), the former category includes 'hood pros, cons, and amenities, extensive floor plans, apt. & 'hood pics, promotional videos, and tools to schedule showings or email the manager (2,000-character limit, plenty of room to ask several questions, or stress the seriousness of one with lots of question marks). On the social side, users can actually edit an area's overview paragraph, provide reviews, contribute to Walk Score ratings, message other members with questions/rental advice, and upload their own photos and videos -- because who doesn't want to live in a neighborhood where everyone's running around with cameras?
RentWiki's also just added 'hood-centric Twitter reports, where Tweeters unwittingly clue you in to everything from local dining ("the stripe at atlantic station; u have to eat there!") to local sanity: "little five points, killer shops and many angry and confused people" -- who clearly contracted some sort of dengue fever from a single drop of your pool water in their mouth.