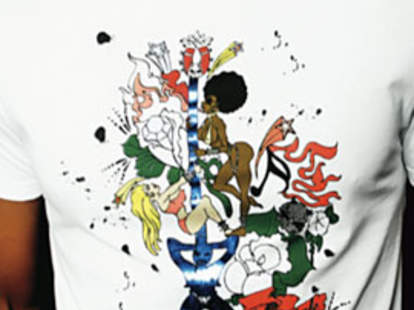 Jocks aren't always known for the savviest outside-sports ventures: for every Hank Aaron BMW dealership, there's something Shaq did. For an athlete-turned-clothing maven who got it right, check out Riejunio.
The cottony brainchild of a former GA Tech receiver-turned-Macy's South exec, ATL-based Riejunio crafts streety tees and denim inspired by its owner's desire to unite international cultures and also to create "The Renaissance of Art & Fashion" -- take that, real Renaissance. Freshly dropped gear's intended to break down barriers by making "multicultural" streetwear that goes beyond "urban" and "hip-hop", borne out in tees like the white "Rockstar" (w/ a black-smudged star, framing an upheld white fist), the black "Mind Grind" (featuring an x-ray skull print w/ three gears for brains), and the "Chick Magnet", with white and black strippers straddling a magnet-headed, blue female-bodied guitar, suggesting that even with women crawling all over you, you're still somewhat pick-y. There're also hand-painted G Ivey Couture tees ("Black", w/ brush-stroked graffiti design; white "Skull and Wings", w/ black/red outline of a skull on crossed paintbrushes); because shirts go well with pants, Rei's got denim like the pearl-washed Loose Fit (made w/ Candiani denim imported from Italy), and the stretchy Relaxed Boot Cut, with front whiskering, frayed ankle cuffs, blue/orange logo stitching on the right back pocket, and "3D Blue Wash" -- so one leg's red?
Riejunio also makes custom duds by request, with leather lettering and/or custom-stitched detailing on stuff like military button-ups, blazers, and vests, potentially providing a wardrobe for Shaq as he continues to Kazaam despite the heavy human toll.