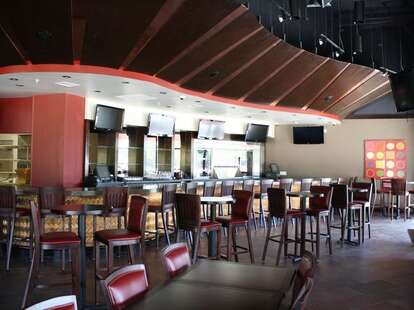 Moving cities gives you the chance to start a new and better life, as long as you can bring your sunglassed-boy Jazz with you to hit on your new and better sister. Also moving from Philly to a step-up ATL location, Slack's Restaurant and Bar.
Opening at the end of this week, Slack's is a Philadelphia-originated sandwich shop whose other, smaller locations in the northeast use paper plates and're completely boozeless, while ATL's gets porcelain plateware and a full bar, plus 12 flatscreens, photos/paintings of Marilyn Monroe, and a huge bar-topping, curving art sculpture they call the "starburst", under which ladies'll sit trying not to attract a bunch of Runts and Nerds. Pre-dinner digestibles include fried green beans, calamari, and wings tossed in your choice of BBQ or hot sauces from mild to "suicide", while innovative phillys (ranging from a buffalo job to a pizza steak w/ mozzarella, fried onions & tomato sauce) join other hoagie-borne sustenance like the Genoa salami/prosciutto/roasted red pepper/capicola/sharp provolone "Godfather", which you'll only regret if you go back for thirds. For hot sammies, it's the "Godmother" (chicken cutlet, provolone & broccoli rabe on a steak roll) or the grilled ham "Holmesburg"; there's also the cheddar/bacon/BBQ "Western" burger, plus dill relish-/raw onion-/mustard-topped jumbo hotdogs, which you can get w/ chili or bacon/cheese sauce, aka, "Texas Tommy"-style, also the shirt line from Tommy Hillbillyfiger based around the concept of not wearing one.
On weekends, there're specialty sammies w/ beef meatballs cooked in four-cheese tomato sauce, plus a Philly steak/scrambled eggs/bloody Mary combo on Sundays. Other imbibing's handled by house-infused vodkas (ginger, strawberry...), nine taps, and 26 bottles including Laughing Skull, Boston's Edison's lager, and Sessions, which purports to have great drinkability but "never at the expense of character", which Jazz didn't have to worry about, as long as he kept his shades on and looked good getting thrown out of houses.