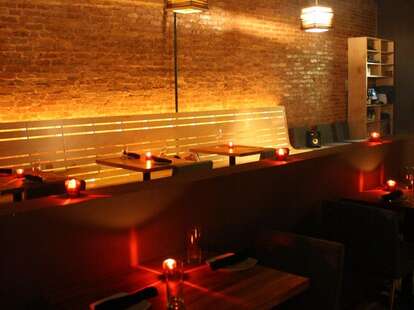 It's cool to find unique things on a menu, like exotic game meats, or "side dishes"! For a joint placing "music" right next to the glazed kumquats, check out The Sound Table.
Sitting in what used to be dinner club Over Da Edge, ST's a bi-level brick-walled restaurant/music lounge from the team behind Top Flr, serving far-more-delicious-than-it-sounds "street-to-table" fare in an upstairs dining area with natural wood tables and square & circular cardboard lamps, and a downstairs lounge where you can listen to DJ'd music on underlit wood-benches, or at a bar with black velvet stools; they describe the overall concept as "putting sound on the menu" -- so, Quiche-a? The happily scattered menu starts with small bites like Vietnamese-style pork spring rolls, and Belgian frites w/ housemade mayo, "plates" such as the Oaxacan hanger steak (marinated in arbol chili) and a chorizo burger w/ pickled jalapenos, tomatillo & queso blanco, plus stuff like Polish dumplings and slow-braised Moroccan lamb's bread from the "cocottes" menu, which also presumably contains plenty of tarts. For potables, it's suds like Jolly Pumpkin ES Bam Biere and Founders Kentucky Breakfast Stout, plus cocktails like the 100-proof rye-based "Cocktail a la Louisiane", and the Karlsson's Gold vodka, vanilla, sugar, egg white & nutmeg "Golden Ticket", which'll be the greatest thing in the world until you get straight busted for stealing fizzy lifting drinks.
Everything's open from 6pm to 2am, and downstairs'll be rocking all types of tunes spun by local DJs like Rob Wonder on a state-of-the-art sound system done by Danley Sound Labs, who did the setup for Turner Field, a place whose menu occasionally includes the rare offering of "a Braves fan".