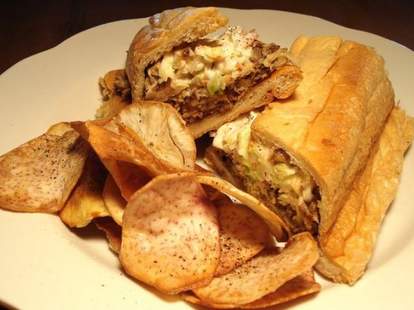 The Caribbean is an incredible place for so many reasons: sandy beaches, perfect weather, and queens, with whom you are now sharing the same dream. Their food's pretty good too, and now you can get it at The Village Jerk.
Housed in the former Calavino's Soul Kitchen and serving a healthy lineup of Caribbean favorites, the Jerk's owners (an 18-year Cuban resto vet and a native Colombian) kept the well-worn brick walls and wood floors, and added new seating and tables topped with cherry wood, so don't tell George Washington, or dude will fell the restaurant. The gorging commences with apps like tostones a la criolla (Caribbean Creole/guava-simmered shrimp on crisp plantain) and batter-fried conch fritters with mango chutney, along with hearty bowl-based nourishment including sancocho (plantain/yucca/seafood/veggies) and a chicken-laden chowder called jerk soup, also what it's called when the Alpha Betas all jump in the jacuzzi. Things get more substantial with "planwiches" (jerk chicken/pork sandwiches with fried plantain fritters replacing bread), chicharron de pollo (chicken fried golden brown and drizzled with a warm tamarind apricot sauce), meatloaf covered in BBQ guava glaze and served with a side of yucca, and masitas de puerco: chunks of pork slowly baked then flash fried before losing all motivation to go to the gym.
Drinkables stay tropical, with Negra Modelo, Corona, and Red Stripe, along with sangria and mojitos; they've also got an uber-cute "Nino's" kids' menu plus a nice smattering of vegetarian offerings, in case you want your heart to continue to beat (as one).