Fado's showing all 64 Cup games, opening early when necessary with a special menu including breakfast sandos you can pair with a pint (at any hour!) for three more bucks, beer-included lunch sandwiches like the Smoked Turkey RLT (the R's for rashers), and lighter eats like Smithwick's mini burgers. Throughout, they'll also be giving away jerseys to people who post the most enthusiastic pictures on their Facebook page, so try to avoid watching soccer when the cameras come out.
Recommended Video
The 'Game of Thrones' Pop-Up Bar Is Now Open in Washington, DC
Previous Venue
Next Venue
Venue Description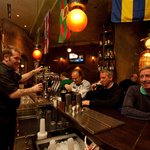 1. Fado Irish Pub
273 Buckhead Ave, Atlanta, GA 30305
Stop by Fado's Irish Pub and Restaurant for a pint and delicious bar eats like their pork schnitzel sandwich. As far as we are concerned, that are the best and most authentic Irish pub in Atlanta and have the best Guinness in town.