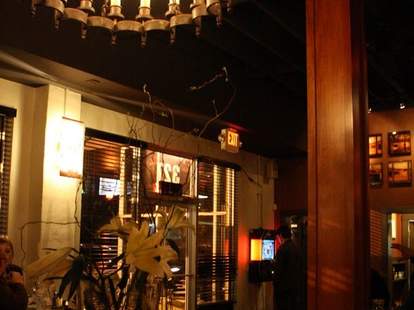 People who believe their work is ordained by the divine can do horrible things like David Koresh, or bring sweet music to the world like Jah-inspired Bob Marley, who himself can be argued was a higher power. For a place inspired by Saint Augustine of Hippo to get you full of eats & grog, check out Young Augustine's.
Sitting in what used to be The Standard and before that a gas station, Augustine's filling your tank with an eclectic menu of snacks, dinners, and craft suds in a space with a central birch communal table, black banquettes, and a large exterior painting of its patron saint, whose famously rambunctious youth is immortalized on the menu with the quote "God grant me chastity and temperance, but not just yet"...wait, this dude was a saint? Snacks come small (Benton's Tennessee prosciutto on a toasted loaf w/ fried ginger mayo) and large (pork belly sliders, tomato/fundido/jalapeno-topped tater tot nacho "totchos"); they're also slingin' sammies like the short rib grilled cheese (w/ arugula, pickles & vine-ripe tomatoes), and the cured salmon Reuben, which enjoyed a new lease on life, until you ate it. More aggressive eating comprises brisket hash poached eggs (w/ mustard Hollandaise), fried chicken w/ stone ground grits & tomatoes, or the jasmine-rice pork vindaloo, all backed up by sides like truffled mac & cheese, scallion pancakes w/ oyster sauce, and fries cooked in duck fat (aka, Goldberg the goalie).
The bar's got a full arsenal of booze, but the main attraction's the additional 16 taps they've added to the 12 left from The Standard's still-standing bar, pouring everything from tamer crafts like the 4.5% ABV Blanche de Bruxelles to heavier hooch like the 12% Duvel Green -- guess which one would get Bob Jammin'.