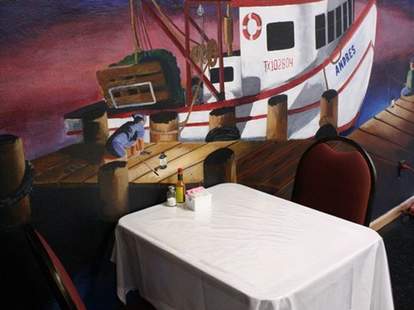 In Texas, Mexican food tends to drown out all other Central American cuisines, turning what should be an ensemble cast into a star vehicle -- kind of like Andy Dick on NewsRadio, except in retrospect, that boss was a rich jerk. More Andy Dick! All Dick aside, proudly representing República de Honduras: Antojitos Hondurenos
From a family whose in-home cooking business proved too successful to be contained in-home, Antojitos claims to be Austin's first non-trailer Honduran spot, a wee 19-seater dominated by a port-themed mural representing the owner's hometown (La Ceiba) and a flat-screen playing Honduran channels, far more culturally edifying to stare stupefied at than American TV.
The in-Spanish menu boasts meaty entrees like flank steak with onions or ranchero sauce, carne asada, stewed chicken, shrimp (breaded, grilled, or in tomato sauce) and the most popular dish, "tajadas con pollo frito": fried chicken with mayo/vinegar/mustard sauce over a mound of chopped lettuce and fried plantains, be-fatted produce so tasty, it'll make you wonder why they didn't also fry the lettuce.
They also feature Honduran twists on Mexican standbys, like enchiladas Hondurenas (smaller, fried tortillas filled with ground beef) and tamales wrapped in banana leaves -- which could contribute to you cramping less during exercise, especially if your workout consists of Garfielding more tamales.
Weekends feature a special selection of hangover-busting soups including a medley of crab, octopus, and shrimp called "Sopa Levanta Muertos", literally "soup to raise the dead" -- which, given the current state of his career, could also be translated "soup to raise the Dick".