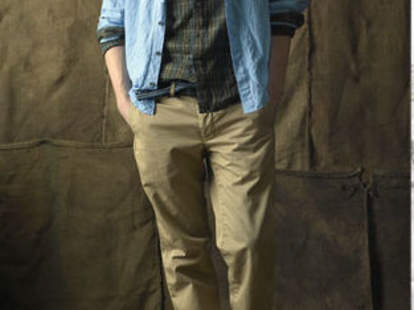 For the hippie-adventurer, there's nothing more alluring than Southeast Asian beaches, languid paradises where the characters are exotic, the drugs are exoticer, and chicks of all nationalities want to bone skinny Americans. God, The Beach was a great movie. Bringing that vibe back west, Burkman Bros' spring line
Dubbed "An American in Penang", the Canadian siblings' latest drop was inspired by SE Asia's legendary stretches of sand, with further notions coming from the region's flea markets, fabric bazaars, and even fruit peddlers (so you'll look like The Picture of Durian Gray).
Though the line's inspired by gear rocked in Malaysia, etc, the centerpieces are ultra-lightweight Slub Madras shirts, stitched in the city for which the fabric was named, with unfinished textures that give each piece a unique feel, e.g. the baby blue long-sleeve with denim-esque streaks and pleated front-pockets, an oceanside-formal brown/tan/gray plaid, and a short-sleeve blue-plaid dyed twice for overexposure -- or, just go shirtless, and die once from exposure.
The collection's bottom half features a breathable chino double-lined with green/black plaid interior, plus shorts like a dark blue, oxford-lined, ikot-woven number with a star-like pattern, as well as teal jersey-lined jobs with dobby stripes, indentured servants who must now cover your He-Which-Must-Not-Be-Named
As far as getting the stuff: Stag is the only boutique to carry the line other than Barneys and a smattering of spots in NYC, Boston, and LA -- where they're a huge favorite amongst the city's skinny beaches.