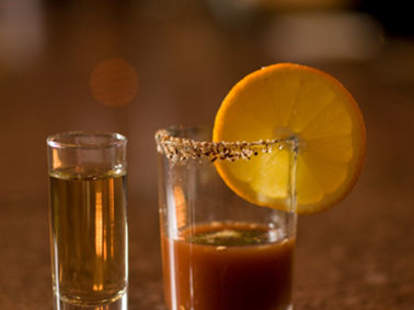 Energy drinks are a great way to jump-start an evening, but at some point you have to transition to alcohol, unless you're a student cramming for a final, or an air traffic controller, but even then, don't you really want the alcohol? Buckling to that temptation, the founders of Dulce Vida Tequila
Dulce comes from a posse of Austinites who originally partnered with Mexican cultivators to develop an agave-based substitute for simple sugar syrup to use in energy drinks; after selling the concept, they decided to move on to distilling tequila because "there's no better foundation for a good party" -- a statement yet to be confirmed by architectural sources, because they're all trapped under a collapsed building singing Chumbawumba.
The tequila's agave is sourced from the Pacific Coast Highlands, imbuing it with a brighter, more acidic taste than lowland tequila, and is offered in a blanco (spicy with hints of cinnamon), reposado (rich, mellow, and woody), and anejo that's full bodied with hints of roasted almond and caramel, fulfilling your dream of getting soused off a Mars Bar.
Organically raised, Dulce's agave doesn't need to be distilled with water, and so retains 100-proof fire, but according to Péché bar-master Russell Davis, the extra potency helps bring out full flavor in Davis-for-Dulce cocktails like the Hibiscus Jalapeno Martini (reposado, agave hibiscus syrup, St. Germain, lime juice, jalapeno slice) and Roasted Jalapeno Sangrita: reposado, agave grenadine, orange, tomato, lemon, lime, grapefruit, chili powder, and Sriracha, fulfilling your other dream of getting totally fu-cocked
Dulce Vida will soon expand to Houston and California, but for now you can find it in San Antonio and Austin at Specs and bars like Péché, Ranch 616, Guero's, Lanai, Cedar Door, and Tres Amigos -- also the movie you watched 400 times in college, cranked on caffeine, and ranting about how a lack of education was your El Guapo.