Exotic dances at not-exotic prices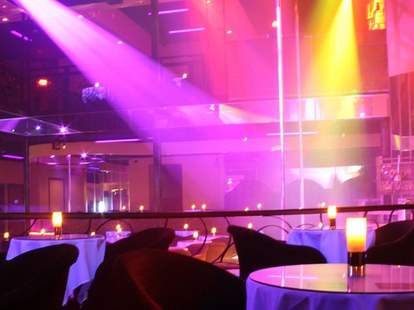 The world of theater can teach other businesses a thing or two -- like that it's wise to first hone your act in smaller markets, and that shattering your femur can be a good thing. Acting on that first lesson, Jaguars Gold Club.
Jaguars represents a half-million-dollar overhaul of the former Playmate's, overseen by a mogul whose philosophy is to bring "white-collar clubs" (snazzy decor, no grillz/jerseys/etc) to "blue-collar guys", a move he pulled in places like Harlingen, Abilene, and Odessa before opening in Phoenix -- where Jaguars won a national award for best new club -- and now Austin, where he hopes to win the same award this year, even if it requires motor-boating the judges... around Lake Travis. The upgrade's manifested in tasteful candle-lit white-clothed tables, tasteful...leopard-print carpet, four bars including a quick service shot/beer stand, bottle-serviced and velvet couch'd skyboxes overlooking an expanded twin-pole main stage complete with oversized strap-in wooden throne, and a private stage-side VIP booth, for making it rain, or, if you're on a true blue-collar salary, drizzle. As to that: Jaguar backs up their claim by charging just $3 for admission and drinks (plus they allow BYO); specials include Thursday's 2-for-1 dances and $5 beer/shot combo, and on Wednesdays there's a $600 amateur competition, where your girlfriend can show off sexy skills like getting you totally aroused and not doing anything about it.
In the near future, Jaguars is adding a kitchen, plus daytime and after-hours performances -- which sounds excessive, but since you're not drinking anymore, there's less of a chance you'll walk out with a limp.