Assemble the right team of experts and you can tackle anything, unless you're trying to crack into the 2-in-1 shampoo + conditioner game, in which case you need a team of ex-Perts. Banding together for your woozy feasting pleasure, the group behind Hopdoddy Burger Bar. Installed in the former Cissi's Market by a legit dream team (the concept creators behind Z Tejas, Roaring Fork, & Eddie V's; chefs from Saba & Moonshine; the interior designer from Vespaio & Justine's), Hop's a casual drink-staurant with a front bar devoted to the dispensation of elevated booze and a back service counter where one can get one's all-natural black Angus on. Everything from buns to bar syrup's made in-house, with cow starring in the likes of the Magic Shroom (Pure Luck goat cheese, organic field mushrooms, basil pesto spread) and the Terlingua (chile con carne, corn fritos, Tillamook cheddar); where's-the-beef includes the grass-fed Buffalo Bill (Maytag blue, Frank's hot sauce, apple-smoked bacon) and sushi-grade ahi topped with sunflower sprouts, teriyaki, honey wasabi, nori chips, and pickled ginger (silly ginger: drowning your sorrows won't make the freckles go away). Equally, if not more important, alcohol kicks off with 12 local "Craft Drafts", from 512 Pecan Porter, to Independence Bootlegger Brown, to St. Arnold's Lawnmower -- named after the bishop who warned peasants of the dangers of drinking water, but not of the dangers of trading it for beer, then using heavy equipment. When beer won't cut it, there are "Sips for Grown Folks" like the sugar-rimmed Soco Sweet Tea (Deep Eddy Sweet Tea Vodka, fresh lemonade) and the Double Fina Margarita with fresh-squeezed lime juice, Paula's TX Orange, and a splash of seasonal citrus -- though if you want your hair to be softer and smell like your drink...thank goodness Head & Shoulders now comes in Citrus Breeze!
Recommended Video
The Mexican-Style Grasshopper Tacos You Have to Try When You're in South Beach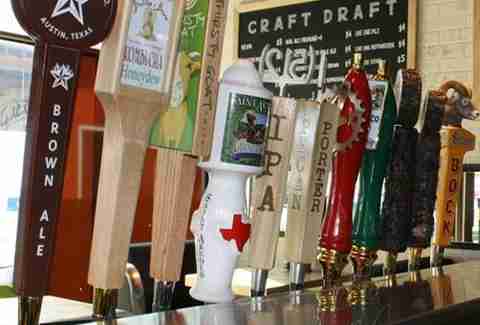 Previous Venue
Next Venue
Venue Description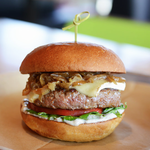 1. Hopdoddy Burger Bar
1400 S Congress Ave, Austin, TX 78704
This Austin-based burger chain serves up hormone- and antibiotic-free beef ground in-house daily, hand-cut fries, and scratch-made buns. The varied burger options range from a classic lettuce, onion, tomato version to amped up ones, like the habanero-topped El Diablo. As for beverages, there are plenty of craft beers, unique cocktails, and solid milkshakes.